Distinguished
Contributing Artist
Great info Lyne!
I'm also curious as to what Lorraine will come up with!
For plant building, if you have Lisa's Tropicals II the bromeliads work very well as undergrowth vegetation, her palm trees will give you some height and tropical feel, curious grasses and vines (and don't think you have to put those on the ground) , Daylilies, and Asiatic lilies have a very tropical jungle feel to them as well and will give you some volume and color to play with.
Traveler has some very nice jungle vegetation and vines that work well if you need fillers or ground litter.
Vue does some really sweet backgrounds, but all depends on how well your computer handles the rendering.
Daz users Stonemason's Jungle Ruins, Heart of the Jungle, are a nice option Stonemason's Enchanted Forest and for some killer special effects add in Dreamlight's light set for them.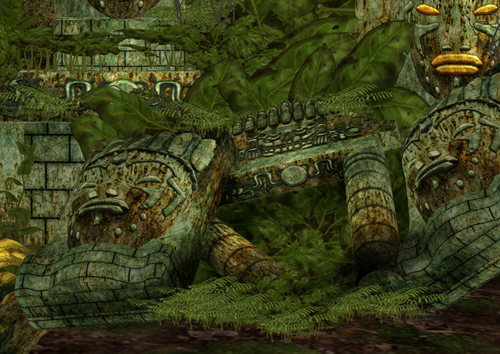 Here's a freebie you can use as you will. Done with travelers jungle plants and Khemr temple construction kit.
Last edited: