I just tried creating a '...depth-map for postwork that respects the transparency...' as I mentioned in the previous post. A picture speaks a thousand words, so...
First, I had to do two separate Z Depth renders, one with the hair visible and one with it invisible, and then I created a mask by switching off all background objects and lights and rendering. I had to do a little fiddle with the mask in GIMP (invert it, overlay it on a black background, and tweak levels), and then I used it to combine the two depth maps as shown below: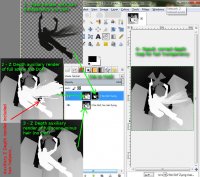 I then used the resultant depth map along with my basic render (without DoF) and the Focus Blur plugin. Here's a comparison of a straight PP2014 render with DoF, and my postwork DoF version: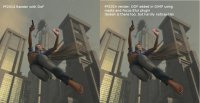 I'm now quite happy to use either method !