Esteemed
Contributing Artist
DUF Pose Converter for Poser 12
**DUF Pose Converter is a Python script for Poser 12. Requires Poser 12.0.703 or later.
Want to expand your poses library? What if you could load DUF poses from DAZ Studio 4 and apply then in Poser to any figure you may have on stage? That's what this script does!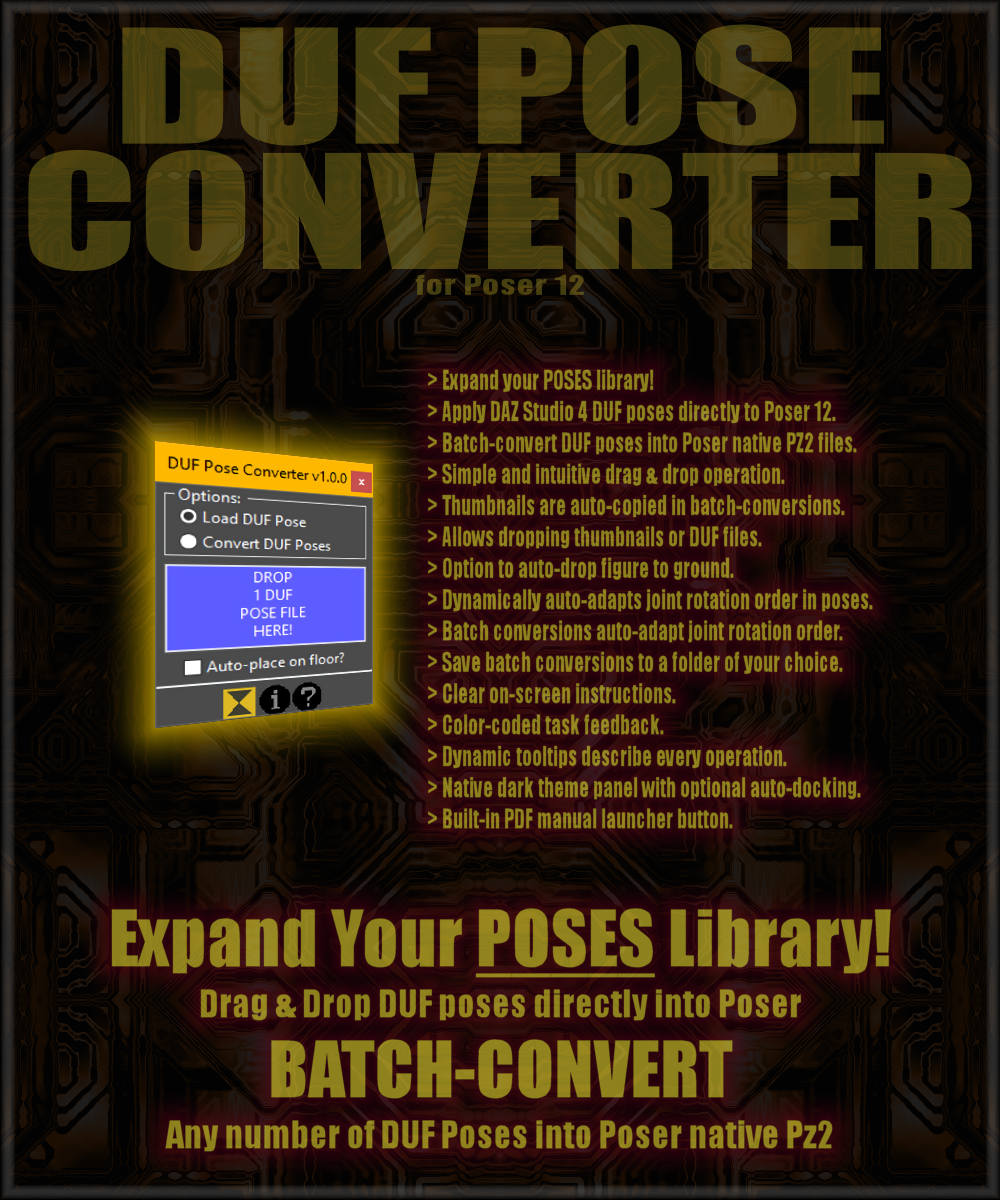 Just drag & drop DUF poses over the drop area, and they will be instantly applied to your figure in Poser 12. The joint rotation order is automatically matched to your figure!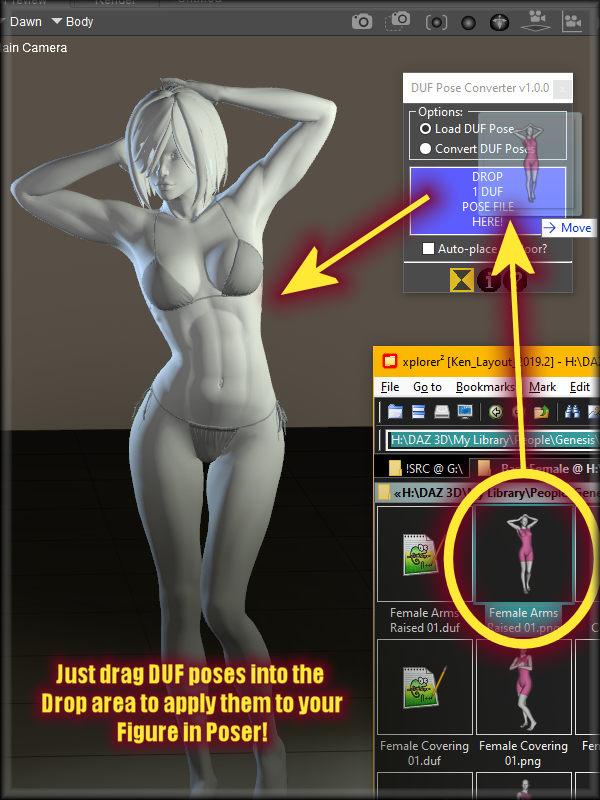 You can also batch-convert any number of DUF poses to Poser native Pz2 format with drag & drop, and they get stored to your chosen folder location, complete with PNG thumbnails.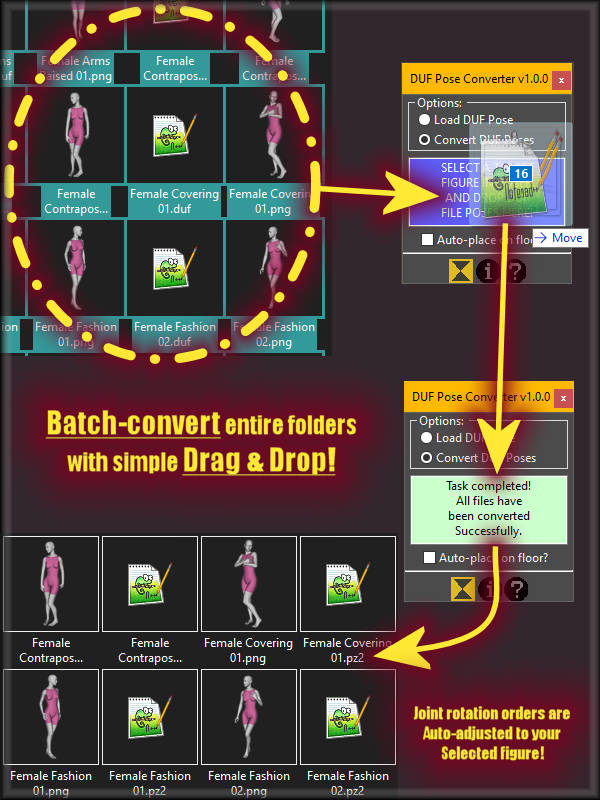 There is an option to auto-place the figure on the floor when loading DUF poses, saving some extra work.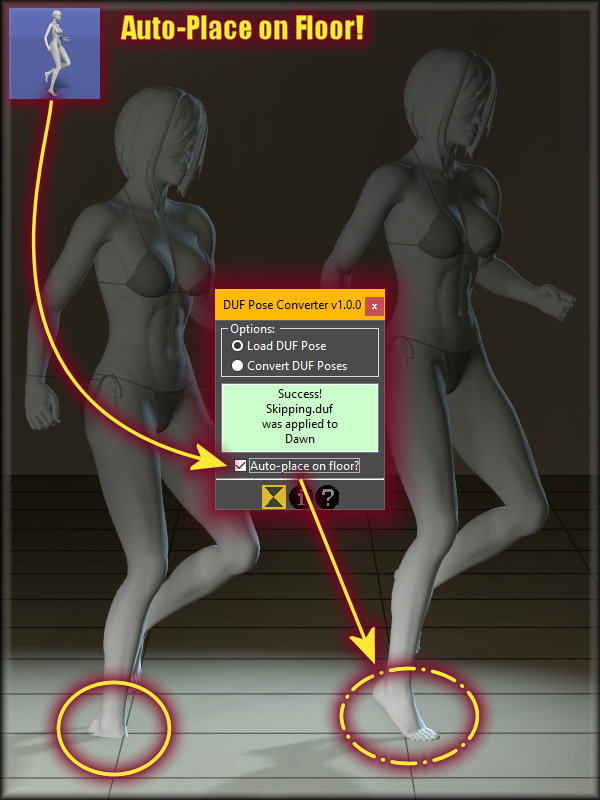 **NOTE: This script allows loading and batch-converting DUF poses from DAZ Studio 4. Depending on what figure the pose was meant for, how well it would fit your figure might vary. You will need to experiment to figure out what poses work best with what figure. In some cases, pose adjustments might be needed. Check the manual for more details.
I have a few pose sets for Dawn that only sold for DAZ Studio, so I could never use them in Poser - until now! After some experimentation, it looks like poses for Genesis 1 and 2 work reasonably well with Dawn, needing very little adjustments. With so much content being made for DAZ Studio these days, this script makes DUF poses now welcome in Poser 12 with simple drag and drop. Works faster than loading poses from Poser itself, probably because it doesn't process the Undo overhead, which saves the entire scene to disk every time. That's probably why it's faster.
As a side note, some figures have different joint rotation orders, but this script auto-adjusts the poses on-the-fly, so poses you apply (or batch-convert) will match the joint rotation order used in your figure automatically. Pose adjustments may still be needed, but without matching joint rotation orders, the pose wouldn't look anything like the original when applied.
The script is current undergoing QAV at Renderosity, and should be available soon.