Esteemed
Contributing Artist
I have started this project in November 2015, and it was something I have always wanted to have - a universal chibi head! "Chibi" is a Japanese Anime/manga style often used to turn regular character into a cute child version.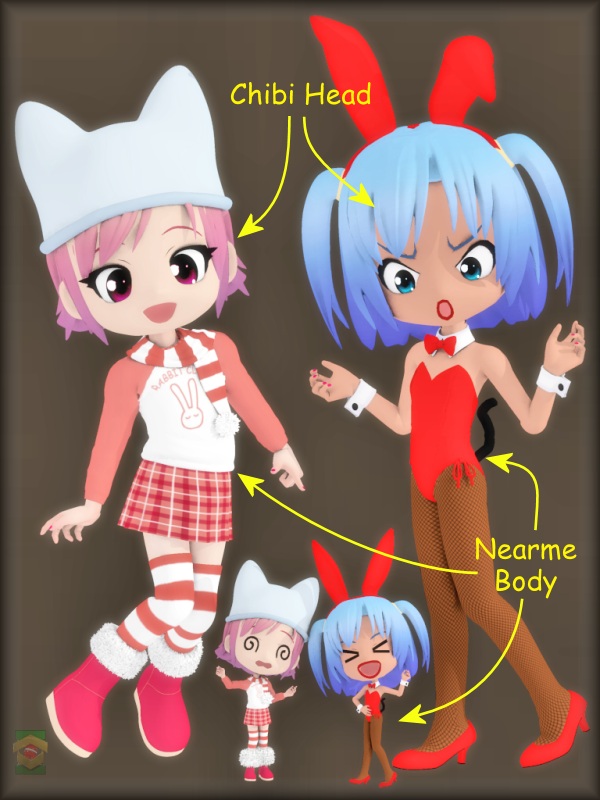 With the Universal Chibi Head (UCH), you will be able to "chibi-nize" any figures you might have in either Poser or DS. No special tools are required - all you need is already included in Poser and DS. If you know how to parent things and toggle items visibility, you are ready to get started.
Along with useful tips and hints from the readme file, I am also including video tutorials for Poser and DS on how to create "composite" figures in minutes.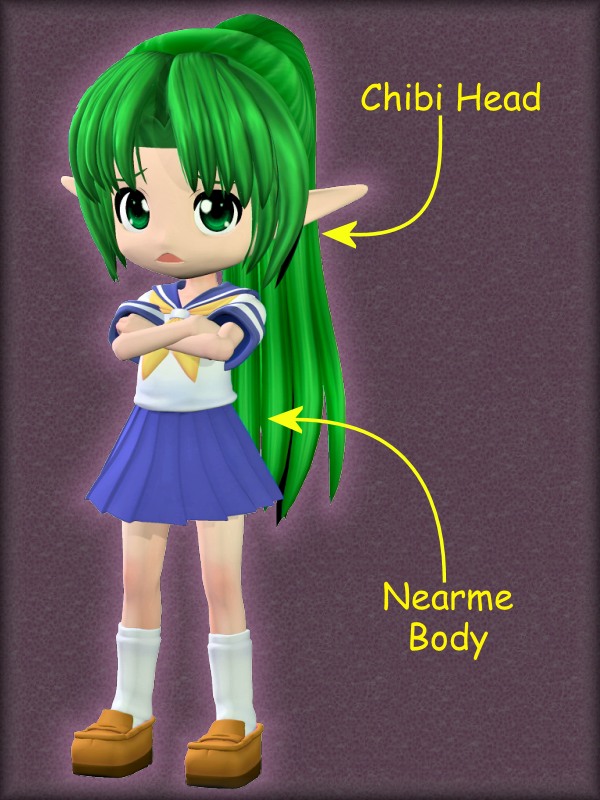 What's Included & Features
POSER:
* Video tutorial showing how to use the product in Poser
* Chibi head for Poser (CR2)
* 155 morph dials organized in 11 categories
* 30 facial expression presets (PZ2)
* 10 dial facial expression presets
* 8 Eye color presets (MC6)
* 30 skin tone presets (MC6)
* 8 Texture maps
* 2 texture templates
DS:
* Video tutorial showing how to use the product in DAZ Studio
* Chibi head for DS (DUF)
* 155 morph dials organized in 11 categories
* 30 facial expression presets (DUF)
* 10 dial facial expression presets
* 8 Eye color presets (DUF)
* 30 skin tone presets (DUF)
* 8 Texture maps
* 2 texture templates
MORPH DIALS:
* 155 Chibi Head dials:
Eyes
Eyes Up-Down
Eyes Side-Side
Eyes Crossed
Eyes Close
Eyes Close_r
Eyes Close_l
Eyes OpenWide
Eyes Open Wide_r
Eyes Open Wide_l
Eyes Tiny
Eyes Happy
Eyes Happy_r
Eyes Happy_l
Eyes Cinical
Eyes BottomFlat
Eyes Bottom Flat_r
Eyes Bottom Flat_l
Eyes Squint
Eyes Squint_r
Eyes Squint_l
Eyes Serious
Eyes Serious1_r
Eyes Serious1_l
Eyes Serious2
Eyes Serious2_r
Eyes Serious2_l
Eye Shapes
Eyes Shape1
Eyes Shape1_r
Eyes Shape1_l
Eyes Shape2
Eyes Shape2_r
Eyes Shape2_l
Eyes Shape3
Eyes Shape3_r
Eyes Shape3_l
Eyes Shape4
Eyes Shape4_r
Eyes Shape4_l
Eyes Shape5
Eyes Shape5_r
Eyes Shape5_l
Eyes Shape6
Eyes Shape6_r
Eyes Shape6_l
Eyes Expression Special
EyesHeart
EyesDummy
EyesDash
EyesX
EyesV
EyesSpiral
Lashes
Lashes Pointy1
Lashes Pointy1_r
Lashes Pointy1_l
Lashes Pointy2
Lashes Pointy2_r
Lashes Pointy2_l
Lashes Pointy3
Lashes Pointy3_r
Lashes Pointy3_l
Lashes Pointy4
Lashes Pointy4_r
Lashes Pointy4_l
Lashes Pointy5
Lashes Pointy5_r
Lashes Pointy5_l
Lashes Out
Lashes Out_r
Lashes Out_l
Brows
Brows Up
Brows Up_r
Brows Up_l
Brows Down
Brows Down_r
Brows Down_l
Brows Closer
Brows Thickness
Brows Out
Brows Turn
Brows Turn_r
Brows Turn_l
Brows Spin
Brows Spin_r
Brows Spin_l
Brows Straight
Brows Straight_r
Brows Straight_l
Brows Male
Brows Mad
Brows Mad_r
Brows Mad_l
Brows Sad1
Brows Sad1_r
Brows Sad1_l
Brows Sad2
Brows Sad2_r
Brows Sad2_l
Brows Surprised
Brows Surprised_r
Brows Surprised_l
Cheeks
Cheeks Round
Cheeks Happy
Mouth
Mouth Happy
Mouth Happy_r
Mouth Happy_l
Mouth SmileClosed
Mouth Smile Closed_r
Mouth Smile Closed_l
Mouth O
Mouth BigO
Mouth Big O_r
Mouth Big O_l
Mouth Wide
Mouth Wide_r
Mouth Wide_l
Mouth LowNarrow
Mouth Close
Mouth CornersDown
Mouth Corners Down_r
Mouth Corners Down_l
Mouth Triangle
Mouth Cat
Mouth Whistle
Mouth Tiny
Mouth Stress
Mouth Stress_r
Mouth Stress_l
Mouth Square
Mouth Puff
Mouth Puff_r
Mouth Puff_l
Lips
Lips Purse
Lips Fuller
Ears
Ears Size
Ears Out
Ears Long
Ears LongOut
Nose
NoseSize
NoseAnime
Neck
Neck Gone
Face
Chin Shape
Muzzle out
Expressions
Happy
Laughter
Sad
Anger
Shocked
Scared
Bored
Smitten
Scream
Dead
Dummy
Enjoy
Asleep
Hurt
The head is capable of a wide range of expressions, to include some iconic cartoonish ones. The dials allow the creation of symmetric and asymmetric expressions. I am providing 30 expression pose presets, plus 10 in-dial facial expressions. Those are just a small sample of the wide range of possible facial expressions you can create with the dials.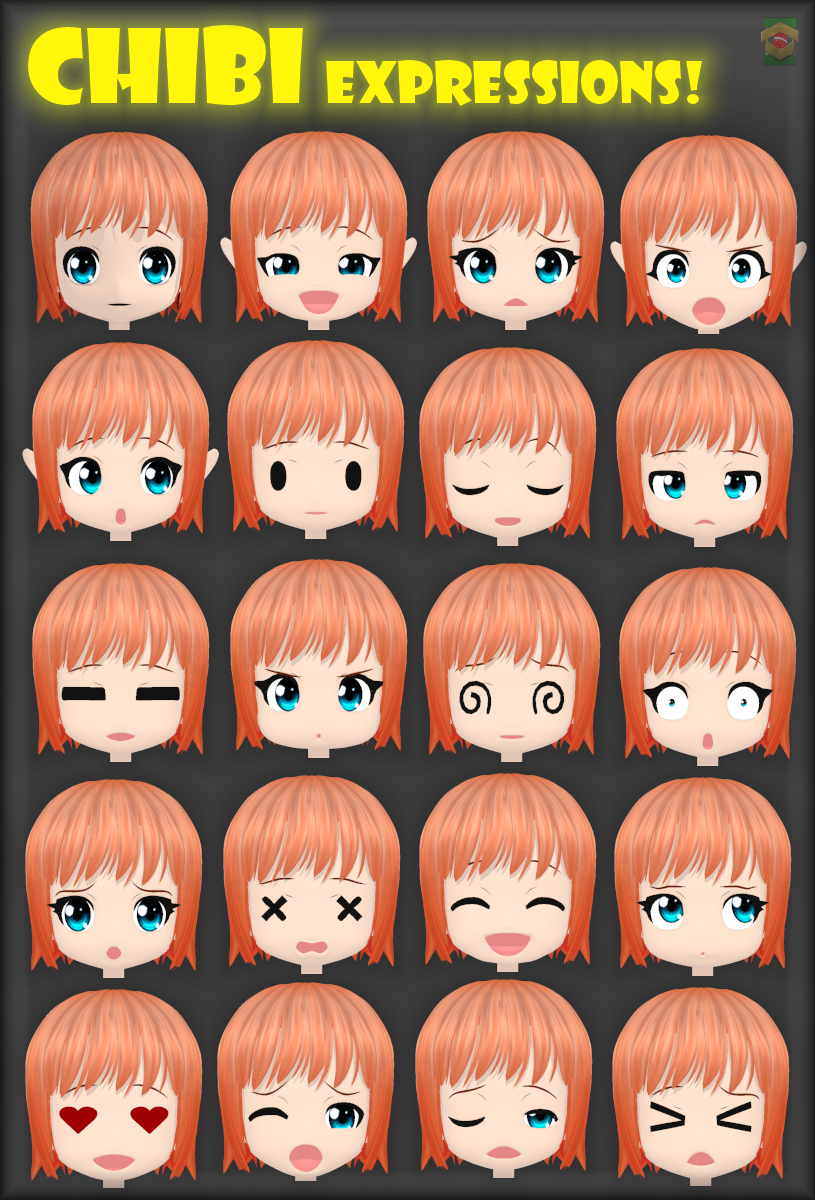 As it was with the "Universal Anime Head" this one can be used with ANY figure in Poser or DS, and hence, it's "universal". The head topology and rigging have greatly improved over the "Universal Anime Head", and I am proud of the improvements I have introduced in this version. The materials are simple enough to work with any rendering engine, to include Firefly, Superfly, Cycles, 3Delight, I-ray, Lux and Octane.
This week I am submitting the Poser and DS distros for internal beta-testing, so I should get a final version candidate very soon. Fingers crossed that everything will go smoothly.