Distinguished
Contributing Artist
Ok, now that we have had the trick .......... here comes the other treat!
Autumn Elegance for Lisa's Botanicals Daylily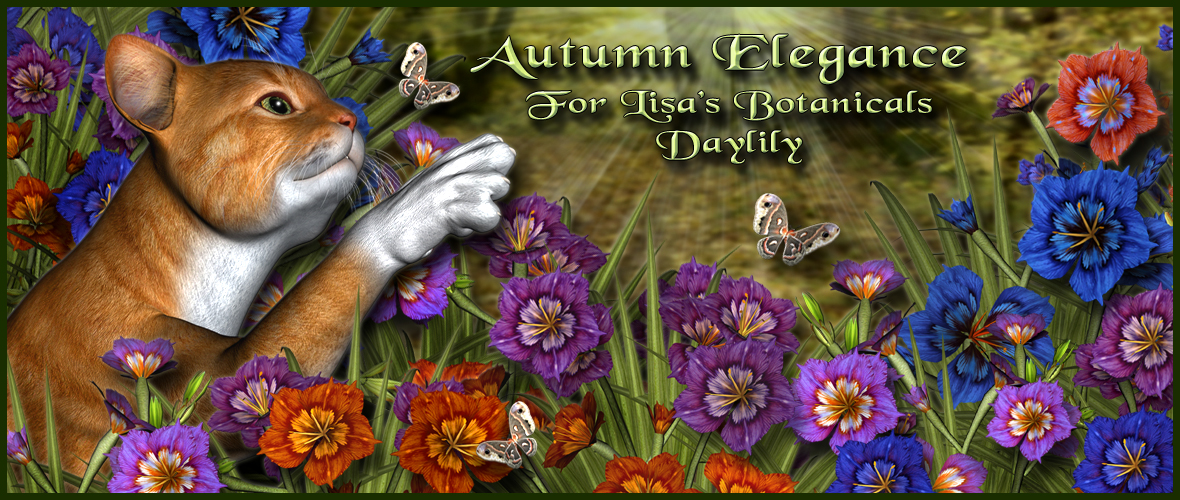 Let the elegance of Autumn grace your garden or patio with the rich hues of deep purple sunsets, cobalt blue October skies, and the dazzling copper of newly fallen leaves. The crisp wind will whisper but your garden will crackle, bathed in the warm hues of a cozy fire. Compatible with both Poser and Daz Studio!

Click the image to preview or purchase.




Requires Lisa's Botanicals Daylily

The bright hues of Autumn Elegance for Lisa's Botanicals Daylily provide a pop of color that will enhance any background. This set of textures will turn the Lisa's Botanicals Daylily models into the prize of any garden scene.

Add a whisper of autumn to your renders with 13 new daylily petal textures, one new stamen texture, and one new leaf and stem texture, along with buds or blooms plant options. Included in the set is one mixed variation texture with 3 different mats on the same plant to enhance variety, while keeping your polygon counts low. All textures are created from my personal photos of daylilies and have been recolored to suit the Autumn season.

The textures replace some of the older mature bud blooms with some green immature ones. Lilies usually won't bloom all at once, but in stages. Even though they only last a day, they will bloom for several weeks as more buds mature.

What's Included & Features


Materials (.duf, .mc6)

6 Petal Textures, with one Mature Bloom for each Texture Color

1 leaf and stem texture in all options
Additional Bloom Variation (replaces the bud textures with mature blooms) on all but Mixed
Color options

BlueFlame (Blue Violet)
Blueskies (Sky Blue and Brown)
Mixed (Combination of differnt textures- Rusty, Royal, and BlueFlame)
Queenly (Purple Orange and White)
Royal (Burgundy, White, and Dark Fuschia)
Rusty ( Rusty Orange, Dark Rusty Orange, and Gold)
Sun Kissed (Bright Orange, Dark Orange, and Sky Blue