Esteemed
Contributing Artist
Welcome to memory dots for LIGHTS in Poser 12! Makes me wonder why Poser never had these for lights, but here it is, and it's bigger and packed with extra functionality! ^____^
This is something I wanted to have in Poser 12 that I would use a lot. It's a way to quickly store and retrieve light sets with a click, plus some extra actions that come handy in different situations. This is what the tool looks like, and it should look familiar to anyone who have used Poser memory dots before, except that is BIGGER (4x4).
It's a mix of memory dots with some extra light management actions, all in one tool.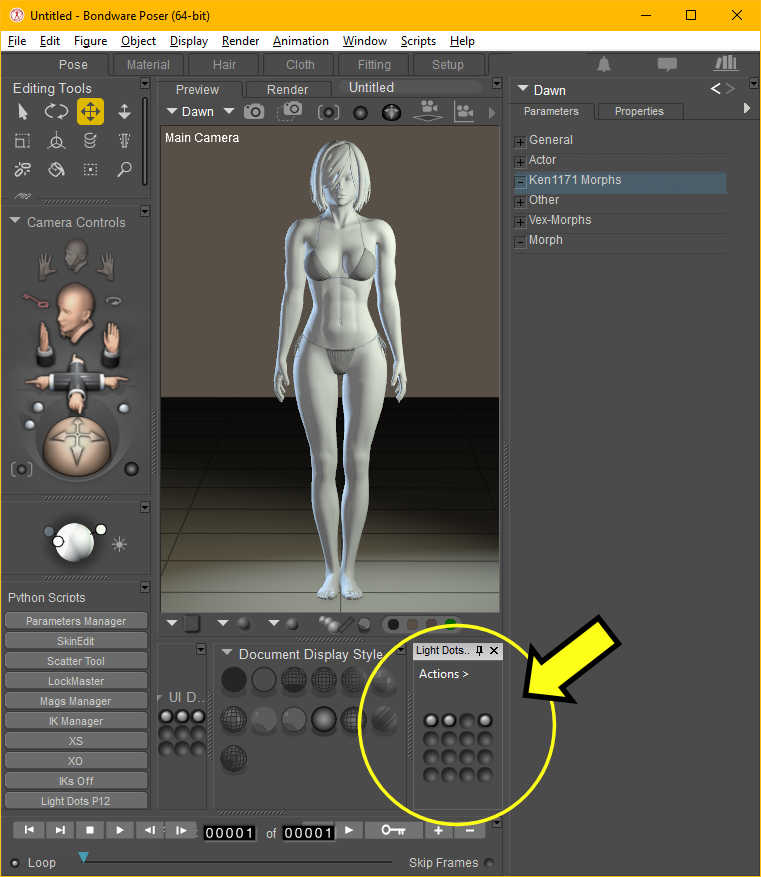 Just 9 dots are not enough for me, at least when it comes to LIGHTS, so I made it a 4x4 16 dots, and they behave the same as the ones from Poser, but also have some extras. Clicking an empty dot stores your current scene lights into a memory dot. Alt+clicking deletes a dot preset, making it empty again. Alternatively, we can also delete dots with a right-click, which I find quicker and easier.
So far, same as with regular Poser memory dots (if it had any for lights), so here's another difference - we can name memory dot presets, so we can identify them by hovering the mouse over them. To do this, CTRL+Click a dot and you will be able to type in a name for it. It shows as a tooltip as shown below. By default, light dots don't have any names, but they look all the same, and it can become hard to remember what they do. All properties are preserved is you close the tool, and will be back next time you run it, so your saved light dots will always be available.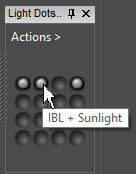 Ok, so now we can store up to 16 scene lights as memory dots (yay!), and also name them to make it easier to know what they do. Now look at the "Actions" menu at the top. It can be accessed by clicking the menu, or right-clicking anywhere on the tool where we don't have a memory dot. Either way will do. It offers actions in 4 different categories.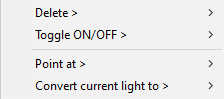 The first one is to delete lights. We can either delete all lights from the scene, or select by type. In the example below, we are deleting all "Spot" lights from the scene.

Next, we have the light toggle actions, where we can turn lights on and off. With one click, we can turn all lights on or off, or do it selectively by light type as shown below.

Then we have the PointAt actions, where we can make all directional lights point to the selected actor with 1-click. We also have the option to remove the constraint from all, or only from the currently selected light. The tool automatically knows which lights are directional, and handles them seamlessly.

Finally, we have light type conversion actions. This can be used to convert the selected light to any type, as seen below. Some light types behave poorly if converted to a nondirectional light while having a PointAt constraint, so the tool handles this automatically under the hood. It auto-disables the constraint for light types that do not support it.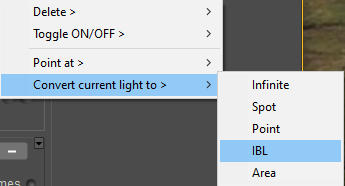 The tool was built using a native WX panel, so it will work seamlessly with other Poser panels. It can be docked anywhere, or run detached/floating. It will remember this next time you run it, like the size, position, and docking state. I have also skinned it to match the Poser colors, except for the action menus that don't seem to be skinnable in WX.
This new tool should make working with lights in Poser much quicker and easier. I wanted to make a demonstration video, but Poser is currently being affected by some changes introduced by a recent Win10 update, making it run super slow. It stops responding for a few seconds after every action, so a video would be impractical at the moment. Fortunately, this doesn't affect everybody, so it might be just a few of us depending on our software/hardware configuration, and what Win10 updates we have installed. I will make a demonstration video as soon as things get back to normal, and I hope that will be soon. ^^
Last edited: