HW3D Vice President & Queen Bee
Staff member
Co-Founder
There is a quote that says "Life is what happens while we are busy making plans." There are a few distinct times in my life that I recall fully experiencing and understanding the true essence of this drop of wisdom with the most recent being the circumstances behind the creation of the Hive.
Like the worker bee, creating honey and feeding the hive by foraging for nectar and pollen, I was happily going along in my little 3D world doing what I love to do. I was successfully building my own "honey stores" and then using them to feed and nourish a lifelong dream. That's when "life" happened … hence the swarm.
A swarm is more than just an aimless mass of buzzing bees … a swarm has a purpose. It happens when, for a variety of reasons, a queen leaves the current hive to find and create a new home. She is followed and supported by a swarming mass of workers who carry honey and pollen and who go on recon missions to find a suitable place to begin creating the new hive.
For me, the key and pivotal event in my decision to leave the cozy honey-filled home I had passionately invested so much of my self in creating was when Chris Creek, one of the co-founders of the company I had chosen to align with … someone who was a large part of why I had chosen to invest so much of myself in that company in the first place … was "let go". Fired. Done. Finished.
This simply did not compute to me. I had already heard through the grapevine that his partner Dan Farr had been "pushed out" of any decision making roles by the group of investors he and Chris had brought in to help the company grow. This made even less sense to me. How does it happen that a company can be totally taken over by its investors to the point of removing the very two people who made it all happen in the first place?
My choice to exclusively invest my creative efforts with said company had been driven by the passion of the people who created it. The more I got to know Dan and Chris … the more interaction I had with them, the more I was inspired to get behind them to do whatever I could do to assist in building the dream … for all of us.
And then, on November 6th 2012, the final straw in an ever-increasing pile of straws … a straw representing the final, painful truth that what I had aligned myself with and had been working so hard to support no longer existed … was placed on top of the pile. My decision to swarm was made. I subsequently packed my honey, gathered my pollen and followed Chris out the door to become part of what is now HiveWire 3D.
In the on-going process of setting up and building our new hive, packing it with honey and pollen and raising new bees I realized how important it is to know and understand how things had gone so wrong that a swarm from the old hive was even necessary. After all, Chris didn't decide to leave behind all that he had created and invested so much into. He was literally kicked out of it.
Asking how I could find the wisdom in what seemed to me to be confusing and conflicting events led me to ask Chris some direct and sometimes tough questions. I wanted to know more about how the company was created in the first place. I wanted to know more about the dream and the vision directly from the source. I wanted an understanding of how things had unfolded and evolved over the years. I wanted to know more about how it seemed to be going so right … and how and why it suddenly went all wrong.
Stay tuned for Chris' candid answers to those questions and much, much more …
Part I
Have you always been an artist? Do you feel you were just born that way?
I'm one of seven kids. Growing up, while others would be outside playing, I'd often stay in and draw and color rather then go play outside with my siblings. I loved to draw all kinds of animals but especially loved horses.
My father was an artist, not professionally but he sure was good. My parents were very encouraging of my meager young drawings, especially my dad. I found that I really liked his detailed feedback and kind words which seemed to drive me for many years.
Was I born that way? I'm not sure but I definitely had the early desire and the recognition and positive feedback were enough to fuel me forward.
As you got older were you encouraged to follow your art or were you told that by seeking a career as an artist you would starve?
My father would buy me art supplies of all kinds. He made this point clear to me - as long as I kept filling up sketchbooks and using the canvas and paints, he would keep me stocked up. He was true to his word until I was a couple years into University art courses. When I got married I was on my own, which was just fine.
My parents would encourage me to find success while pursuing artwork. My dad would tell me about an artist friend that he grew up with who was pigeon-holed into a certain kind of work. His friend eventually got burned out on what he was doing and didn't or couldn't find the value in it anymore.. So he pushed onto something else. It was kind of a warning to me to make sure that I was pursuing something I was passionate about.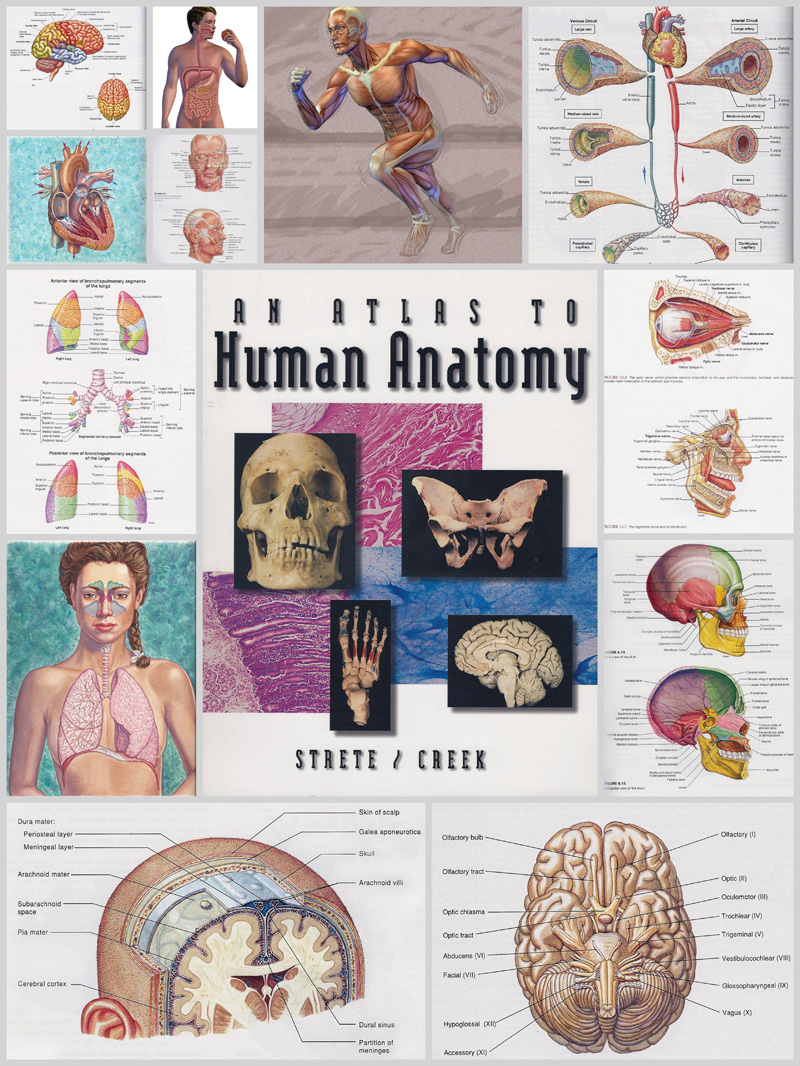 How did you get started in a career as an artist? What did it feel like to be supporting your family with your art?
Actually I was scared to death. I wasn't sure I could do it. I actually received my Bachelors degree in Illustration at Brigham Young University in 1986. Right after school, my wife who was five months pregnant, our one year old son and I moved from Utah to San Diego, California to pursue a career in editorial illustration. We lived with her parents while I beat the streets of San Diego and Los Angeles trying to round up enough work to support our little but growing family. It was a rough go, very sporadic. Not at all what my wife was hoping for sure.
I did some illustration work for Emmy Magazine, The Playboy Jazz Festival, Detroit Free Press, Atlantic City magazine, LDS Church magazines, Happy Times magazine and a few others. Freelance work was hard to come by, so much so that I even got creative and worked up a portfolio of Christmas themes and painted Christmas windows for shops and restaurant chains to make ends meet.
While at Brigham Young University I had landed a job on campus as a medical illustrator for the then William C. Brown (now McGraw-Hill) Publishers. I had illustrated an entire medical book with line drawings for a couple of professors. They contacted me again with a long term project they wanted me to illustrate. That freelance job took me and my family back to Utah where the author lived. We became friends and over the next 7 years I illustrated upper division college medical books with watercolor and pen and ink drawings for McGraw-Hill, William C. Brown and Morton Publishing.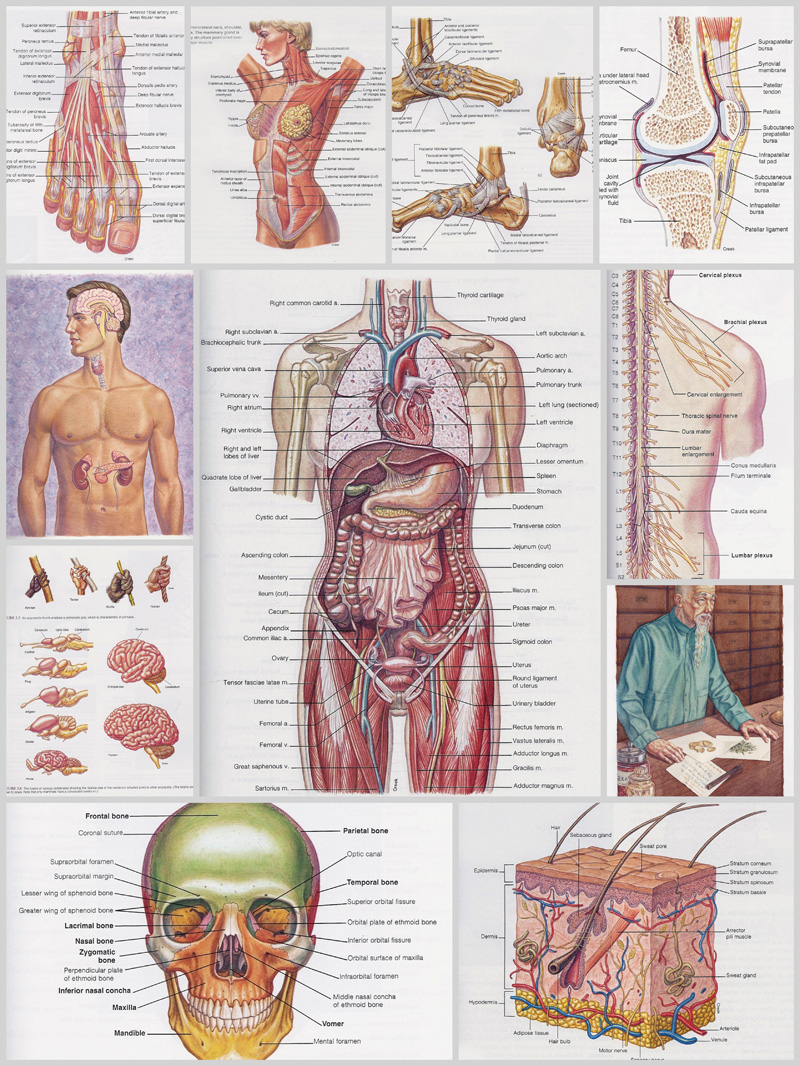 ​
I learned a lot about anatomy on the job, and this author/professor would take me into the cadaver labs to learn the various body systems and anatomy. He would then load me up with several body organs that I'd take home and paint from. I remember at one point I had an actual adult skeleton hanging in my studio closet, another dis-articulated skeleton in a box, a nine year old skull on my work desk and an actual brain in [a] zip lock bag. I later took that same brain to my son's grade school for show and tell. Once the principal heard about it he had me take it around to 3 more classes. My son felt pretty special that day.
Still, very often I was concerned as a freelance artist if I could keep this going. I became driven early on by a couple of things. Fear drove me. Fear of failure. Fear of not being able to provide for my family motivated me to press on and grab all the work I could handle. I worked many late nights to get projects done, to show the publishers I could do good solid work and still meet their tight deadlines. Another driver for me was that I wanted to do my best to produce medical illustrations that were not being done at the time.
Not only known for your illustrations and 3D creations, you are also an accomplished painter and sculptor. My favorites are your hidden picture paintings, the Dick Van Dyke head and your chicken coop. Can you talk about what inspires you to take on something like you did with your chicken coop? How long did that take to complete?
I grew up with farm animals and very much enjoyed them. Later when married with kids I built several chicken coops with several houses. But I wanted my last coop to be special, so I contracted my brother to build it for me. Then when done I decided to paint a mural on every wall and ceiling. I think I spent around 80 hours painting it during the winter months. I only had hens in the coop because I didn't want roosters crowing and driving the neighbors crazy, but roosters are so beautiful in coloration and shape so I decided to paint roosters throughout the coop.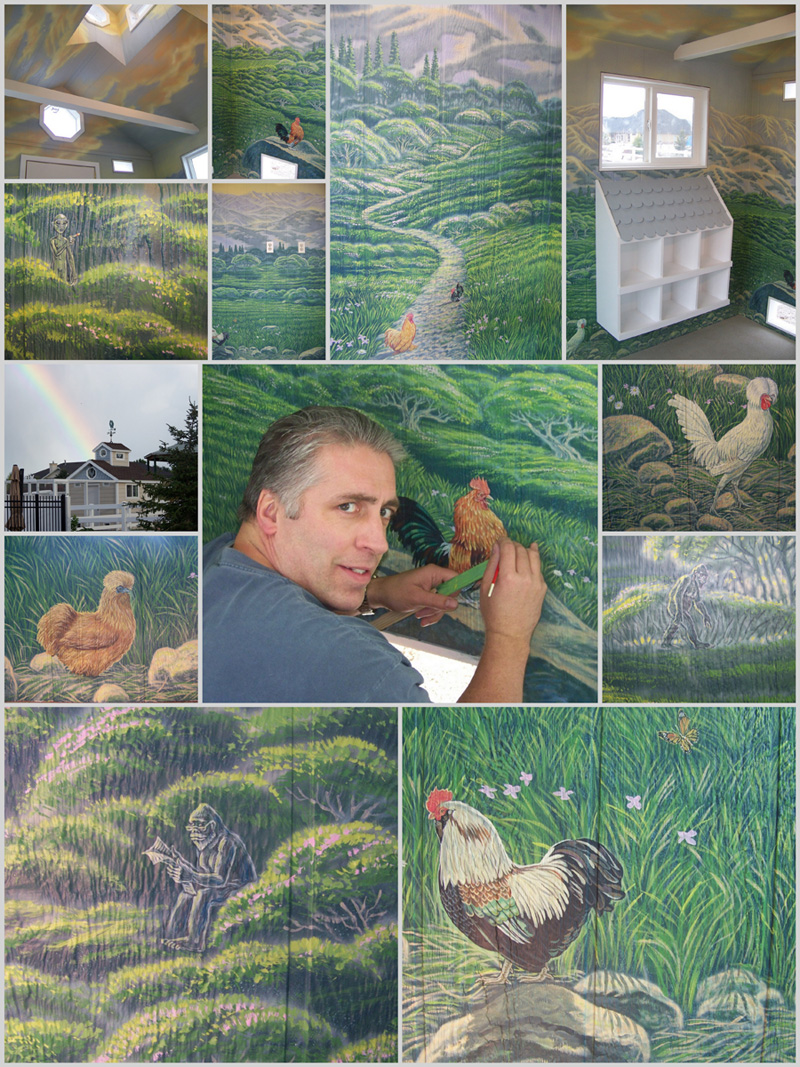 ​
What was the turning point that took you from 2D illustrations on paper to 3D pushing pixels on a computer?
The medical illustration experience launched me into illustrating an entire Herbal company catalog. I think the idea was that the medical illustrations would help add some support and legitimacy to the herbal products. It was this catalog job that got me into the 3D modeling realm.
One art director had spoken to another art director who happened to work for Viewpoint Data Labs. They were looking for someone to create models of the human body and body systems. At this time I was also teaching a couple design and figure drawing classes for my alma mater, as well as keeping up on my medical illustration work load. But I couldn't resist this new opportunity that opened up for me.
The folks at Viewpoint were more than willing to train me in modeling. I thought that they were going to fire me almost daily, because I just wasn't picking it up as fast as I was hoping to, and it took many months until I started to get comfortable. I even took a typing class at night so that I could actually type on the keyboard rather than the embarrassing hen pecking I was doing prior. All that work paid off as the creative process began to sink in and become second nature.
While there, I modeled or was at least a big part of modeling a slew of new anatomy content, including a detailed skeleton, heart, brain, several body systems, a cat skeleton, dinosaur bones, the face of the Oscar award and a baby that was the mesh used for the ever popular Dancing Baby. Viewpoint was a great training ground for me.
You've been in the world of 3D for a long time with several different companies and were one of the original co-founders of DAZ 3D. How did that come about?
Let me touch on Viewpoint again to lay out the reasoning. After working at Viewpoint for a couple of years, there were five of us who wanted to break out and form our own company. We wanted to create 3D anatomy content and tie that in with Medical Publishing companies.
It got to where we felt very oppressed with our current company structure. We were confident we could start something new and do it "right". Thus Zygote Media Group, that fertilized egg, was conceived and born and in fact still exists today.
But again, after 5 or 6 years with 5 partners at Zygote, we had our challenges. We each wanted different things out of the company. Eventually Dan Farr and I broke off from the other 3 partners and formed DAZ. By the way it was supposed to be DAC at first but that name was already taken. DAC was for Digital Art Central as well as Dan And Chris.
Dan and I saw a need that we felt we could fill by creating content to serve the Poser market. At the time it was wide open, and we knew, or at least felt, we could do it right. Others at Zygote thought it was a wasted effort, but Dan and I soon proved them wrong.
There's still more to come! Stay tuned ...