Running with the wolves.
CV-BEE
Contributing Artist
Hey guys - I figured I might as well just contain all of my items to the same thread for the sake of being easy to find.
All of my items are available on my website (including the legacy stuff for figures like the Gen2's and Gen3's). I do have some things on my ShareCG gallery, and the other place I post freebies nowadays is in my DeviantArt gallery. So many of my items will have three links - just pick the one you prefer, and go for it.
I do make content on a semi-regular basis, though there are frequently long "dry spells" in between new item releases. So, rather than litter the forum with a multitude of freebie announcements, I figured a single thread would be best for them all.
----------------------
So. The first item I'm going to put up here would be the DS Mats for the store freebie Luna's Playthings here. These are just material files to make use of the Playthings inside of DS. There are NO actual textures included; all of the material settings rely solely on the texture maps that came with the product. All I did was make a bunch of MAT files using the stock texture maps to give the Playthings a bit of a different look in DS.
Required Files :
Glitterati's Playthings for Baby Luna (freebie)
Included Files :
6 DS Material Presets for the Blanket
(3 Cherries, 3 Balloons)
6 DS Material Presets for the Playpen
(3 Cherries, 3 Balloons)
6 DS Material Presets for the Bear Mobile
(3 Cherries, 3 Balloons)

Usage Rights :
Commercial renders are OK.
Redistribution of your OWN textures is OK.
You may NOT redistribute my original mesh, or textures.
You may NOT use any of my content in Second Life, sorry.
Website :
http://www.childeoffyre.com/playthingsMATs.html
ShareCG :
COF Baby Luna DS Material Presets - DAZ Studio - ShareCG
DeviantArt :
COF Luna's Playthings DS MATs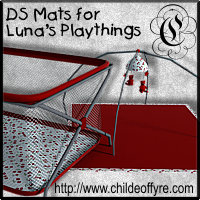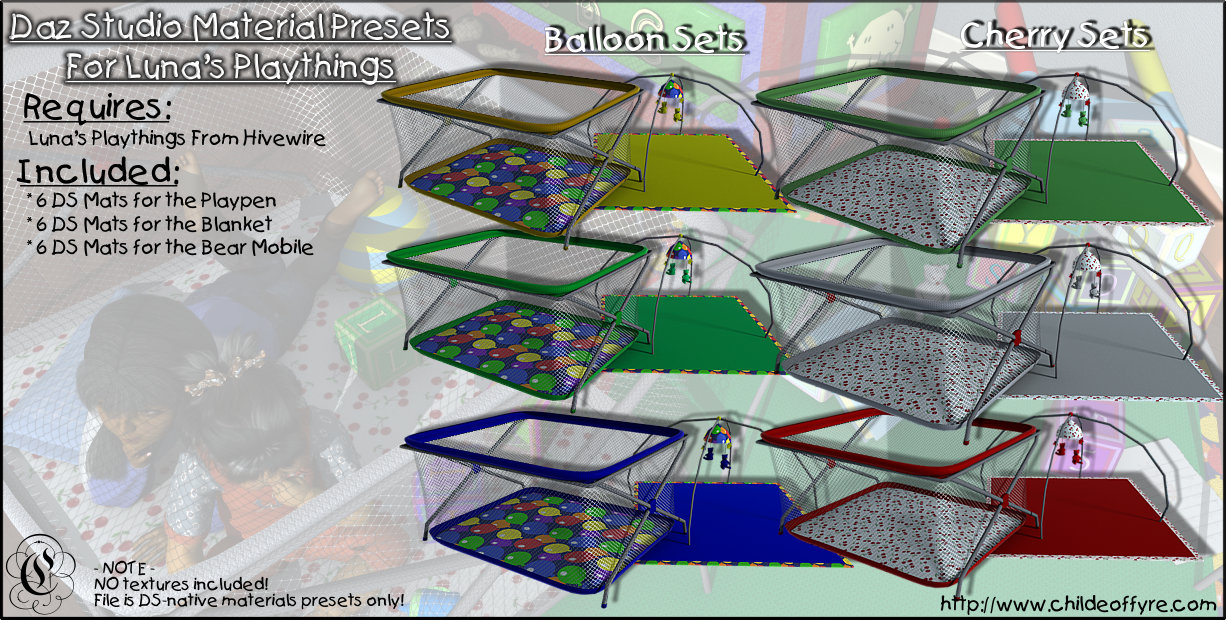 Last edited: