RETIRED HW3D QAV Director (QAV Queen Bee)
Staff member
QAV-BEE
Most poses made for Poser will work just fine in DAZ Studio. Others need a bit of help
AdamR discovered this when converting V4&M4 poses to Genesis, and created a script that fixes weirdness with feet and hands that sometimes happens when bringing Poser poses into DAZ Studio. It works like a charm.
Here is a link to Adam's old thread about it at DAZ
DAZ 3D Forums :: View topic - AMR's Reset Genesis Hand & Feet Translation
And a direct link to the download:
http://daz.tall-tales-racing.com/resources/freebies/genesis/GnResetHandFeetTranslation.zip
You need to bring in the Runtime containing the poses as a Poser Format in DAZ Studio (or add them to one already there)
See this thread for help with this - as shown in the 2nd image, you will select
Poser Formats
rather than
DAZ Studio Formats
in Content Directory Manager:
How to install and find your HiveWire 3D content in DAZ Studio | HiveWire 3D Community
One thing you can do to make it so you don't need to go back and forth between the Poser format section for the poses and the DS format section is to make a copy of Adam's files and put them in the Poser Pose folder with the pose sets that you find have the issue.
1-Create an empty text file.
2-Change the extension to .pz2.
3-Rename the with the EXACT same names as Adam's dsa & png files for the resets.
The little scroll shows you that there is a DAZ Studio file there which will be applied when you click the icon.
You can now use them right in the Poser format section.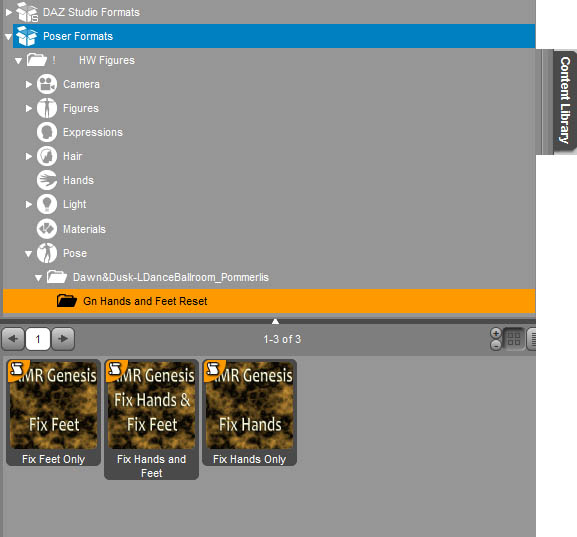 Here's an example of how this works, using the lovely Let's Dance Ballroom Poses for Dawn & Dusk by Pommerlis in our store. Many of these poses need the foot pose applied after you pose the figure but it's quick and easy.