Hi!
First of all, i try to contact Sparky for months via his website mail or hear but she is nowhere to find. If you have any mail or other contact info, please share with me because this is something she can handle for sure!
I need a morph and texture for V4.2 of a female deathclaw human version (from Fallout Series).
Here is the drawing of her: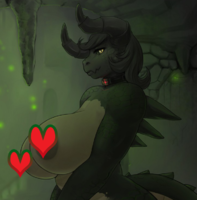 Body shapes can be handled by V4 morphs. I will need the face/feet/hands, horns, hair (could be version of existing ones) and tail. There will be texture too but the textures could be created by help of the original deathclaw textures from game or modders (mods got much more quality textures).
If there is an artist who want to discuss about price, please contact me here or via mail "
kinguard@gmail.com
".
I did not know where to put this at the forum, i hope i done it right. Thx!