Very simple shader that'll give you a height map (as opposed to depth map) render of your scene, with everythink at ground level or below (Y coordinate zero or negative) rendering black, and anything above ground level rendering in a height-dependent shade of grey,with the height for white being a parameter in the shader. If it's not one of bagginsbill's it's inspired by him.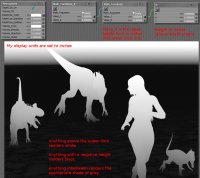 You don't need to turn lights off or adjust anything else, just set the material as shown and render.
Using a height map render (possibly in conjunction with a depth map render) in postwork opens up a new world of ground-foggy possibilities...