Now I have a better idea of what's going on, I did another experiment which some may find illuminating (no pun intended!)
In this set-up, I have three single-poly squares. The centre one is the standard Poser single-sided square prop, with some text used as a displacement map. I set the value to 0.0005 PNU.
The left hand square is also the Poser single-sided square, with the same text used as a bump map; again set at 0.0005 PNU.
The right hand square has its UV mapping flipped horizontally, so the text appears as a mirror image. The material settings are the same as for the left hand square.
The light is in the top right corner, at 0.5, 0.5, 0.5 PNU.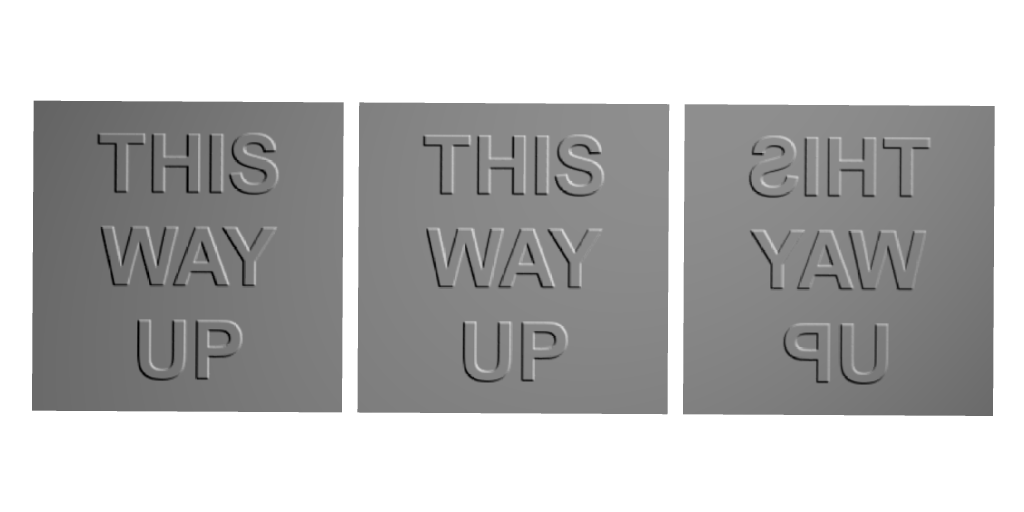 You can see that although the text on the right-hand square is mirrored, it still catches the light as if it was coming from the top right, which is kind of what you would expect. In fact from this angle, the bump map and the displacement map have very much the same visual effect; again, as you would expect.
Now I make the text into a normal map using this tool:
NormalMap-Online
I won't bore you by going through all the permutations, but I chose to invert the height and the green channel for the following render.
The centre square is the displacement map as before; the left and right squares have my normal map applied, with Gradient_Mode = Tangent space.
This illustrates the problem a bit better, now that I'm using a non-symmetrical map. On the right hand square, the lighting has been inverted as well as the text, so it looks as if that square is being lit from the other side of the stage. Plainly not very useful.
If you're using Firefly, my recommendation would be to avoid normal maps altogether if you can. I have yet to find any combination of settings that produces the correct result.
Superfly is a different matter, and I'll look at that next. I haven't got to grips with it yet, and it won't do displacement on a single polygon, so my test scene will have to be different.
@seachnasaigh

Bump maps will show inverted as well, so when it comes to normal vs bump, none is the better (in this particular case) because both are affected by the OBJ's inverted UV map.
I think you maybe confused between the mirroring of the map - which is fine - and the mirroring of the lighting, which is not. Hopefully the renders above will clarify that. Bump maps
are
better, at least in this case.