elleque posted this freebie over at
Renderosity freestuff
: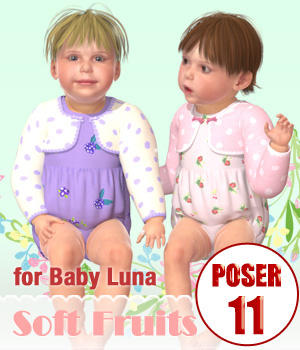 Very cute!
While it's for Poser, it works okay in DS.
DS users can save the outfit as a wearable preset. First, load the outfit on Luna. DS will throw up a bunch of errors due to weight mapping issues. Just wait a few moments until the autofit window pops up. I didn't change any of the settings, just clicked to apply it. Once they romper and sweater are fitted to Luna and smoothing modifiers are added, go to the scene tab and select Luna, then the sweater and romper. Once all three are selected, go to File --> Save As --> Wearable(s) Preset.
That will save the outfit in DS format under Presets --> Wearables.