HW3D Vice President & Queen Bee
Staff member
Co-Founder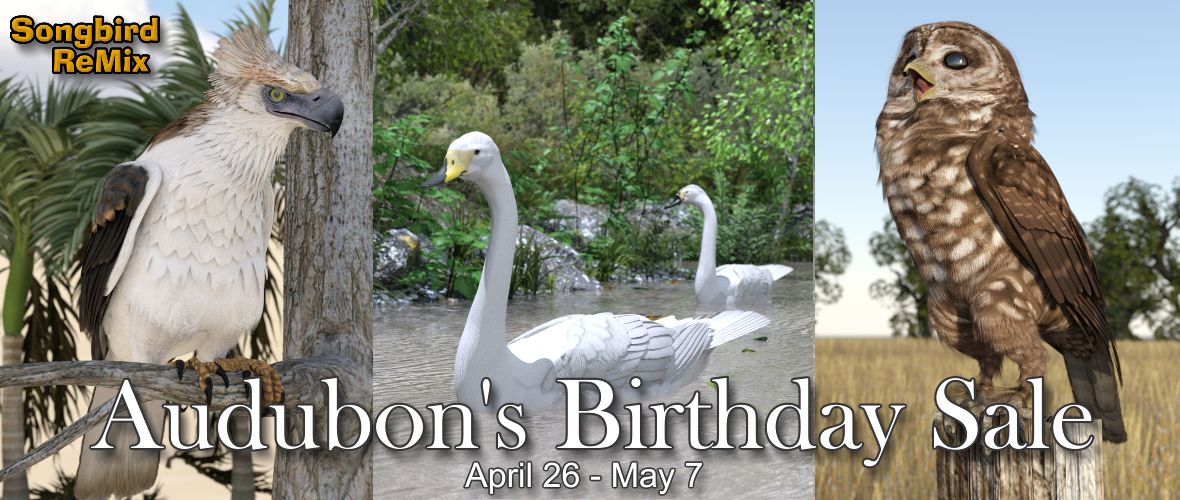 John James Audubon, born on April 26th, 1785, was the United States dominant wildlife artist for half a century. His seminal work,
Birds of America
, a collection of 435 life-size prints, is still a standard by which bird artists are measured. In his later years, Audubon sounded the alarm about the destruction of birds and their habitats. After his death, the
Audubon Society
was formed and carried his legacy into the future.
Today,
Ken Gilliland
carries the spirit of JJ Audubon's work into the 3D digital age by promoting avian artistry and environmental awareness through his
Songbird ReMix
series. While his contribution to the bird conservation community is an ongoing thing, once a year he hosts a special sale event to bring awareness to the world of birds and raise funds necessary to protect them and their habitat.
This years sale features one new product, "Waterfowl Volume 5: Geese" which has 12 species of geese with some m/f, juvenile and subspecies variations, and the first of three waves of a complete Songbird ReMix library overhaul which updates older versions to current technical standards.
The first batch of these updates is complete and includes: all 5 volumes of the Birds of Prey series, all 4 volumes of the Waterfowl series, both Owls volumes, Nightjars and Kiwis. Folder structure has been changed to have everything put under one folder (birds, props, materials and poses) in both Poser and DAZ Studio native formats. All four render engines are now supported with Iray, 3Delight, Superfly and Firefly presets. All birds are presented in "character" formats -- that means one click loads the "ready to render" bird. The second batch of updates will be released late summer and the final third, hopefully at Christmas.
2018 marks twelve years of this highly anticipated 3D bird event. Audubon California has a promotion called
"Give $5, Save 5 birds"
, paying the farmer to leave their crops standing which saves endangered Tri-colored Blackbird chicks from being "harvested" along with the crop that is their home. This year we start off with some good news; California Fish and Wildlife has finally and officially declared the Tri-colored Blackbird an endangered species. The Tri-colored blackbird, an endemic Californian species, has been championed by my charity sale and has saved over 30,000 blackbird chicks, however, the fight isn't over yet with forces moving to unprotect everything by removing the Federal Endangered Species Act (FESA), so the battle continues.
Each year, Ken has donated 25% or more of proceeds from the Audubon Birthday Sale to Audubon California. Over the years, the sale has generated thousands of dollars for Audubon. This year, 33% (or more) of Ken's proceeds on the 2018 Audubon's Birthday Sale will be donated to Audubon California who is directly responsible for preserving many of the birds featured in his Songbird Remix series.
See the full interview here
.
Last edited: