HW3D Vice President & Queen Bee
Staff member
Co-Founder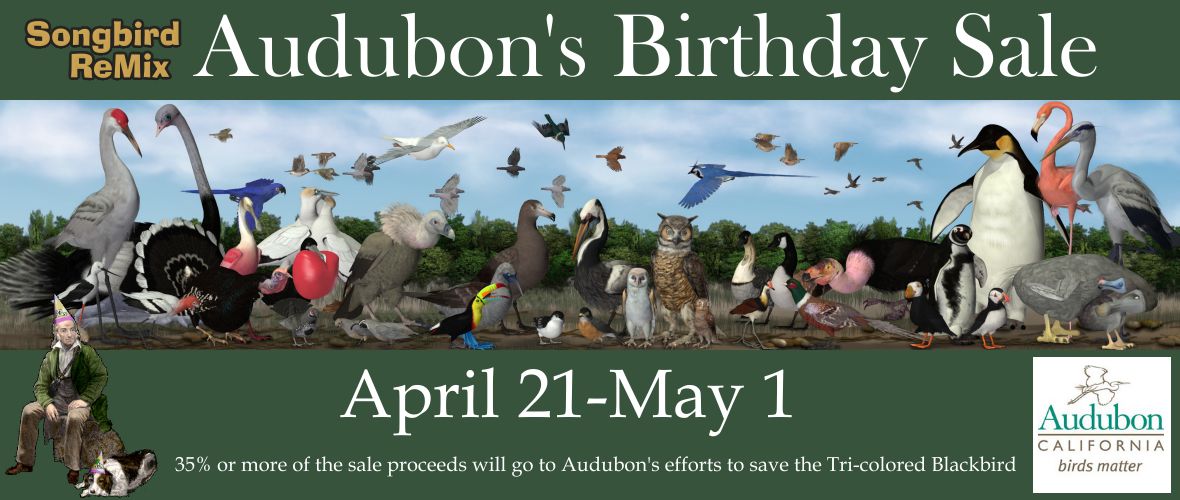 ​
John James Audubon, born on April 26th, 1785, was the United States dominant wildlife artist for half a century. His seminal work,
Birds of America
, a collection of 435 life-size prints, is still a standard by which bird artists are measured. In his later years, Audubon sounded the alarm about the destruction of birds and their habitats. After his death, the
Audubon Society
was formed and carried his legacy into the future.
Today,
Ken Gilliland
carries the spirit of JJ Audubon's work into the 3D digital age by promoting avian artistry and environmental awareness through his
Songbird ReMix
series. While his contribution to the bird conservation community is an ongoing thing, once a year he hosts a special sale event to bring awareness to the world of birds and raise funds necessary to protect them and their habitat.
2017 marks eleven years of this highly anticipated 3D bird event. The
11th Annual Songbird Remix Audubon's Birthday Sale
celebrates the fourth year the sale is being hosted at HiveWire 3D, the new home for the Songbird Remix 3D library. Audubon California has a promotion that coincides with the Audubon Birthday Sale called
"Give $5, Save 5 birds"
, paying the farmer to leave their crops standing which saves endangered Tri-colored Blackbird chicks from being "harvested" along with the crop that is their home.
Each year, Ken has donated 25% or more of proceeds from the Audubon Birthday Sale to Audubon California. Over the years, the sale has generated thousands of dollars for Audubon. This year, 35% (or more) of Ken's proceeds on the 2017 Audubon's Birthday Sale will be donated to Audubon California who is directly responsible for preserving many of the birds featured in his Songbird Remix series. The annual Audubon's Birthday sale has saved almost 20,000 endangered birds to date.
See the full interview here
.