HW3D Vice President & Queen Bee
Staff member
Co-Founder

​
HW3DLB
- Many years ago now I first became acquainted with CWRW through her
beautiful horse art
. I was mesmerized by the vision and talent it took to create such spirit-filled, emotionally moving artwork. In the past year it has been an honor and a pleasure to be working with Laurie Prindle as she has assisted to define and develop "Harry" the HiveWire Horse.
I'm always curious about the people and inspiration behind the art, so the opportunity to ask Laurie questions and get to know the woman behind the CWRW magic was an exciting one to me.
HW3DLB
- Does your artist name CWRW have special significance to you? Does it stand for something?
CWRW
- LOL I get asked that a lot! Yes, actually cwrw is the Welsh word for beer (roughly pronounced koo-roo). My father's family was originally from north-western Wales, near the legendary Snowdonia.
Growing up I was very influenced by my grandmother Olwen and her two sisters, Myfawnwy and Eluned; they were always telling me stories and legends of the old Celtic Wales and I was inspired and fascinated by them. I also was influenced by the Mary Stewart Arthur trilogy which came out when I was young. I always wanted to name one of my horses Emrys. I love the Welsh names even if I can't pronounce most of them!
Several of my art pieces are a reflection of my great aunts' Welsh/Celtic influences. For those who are nosy like me and like to look at and study the actual texture maps folks like me make, you will see my personal logo, which is the Welsh Dragon holding a beer.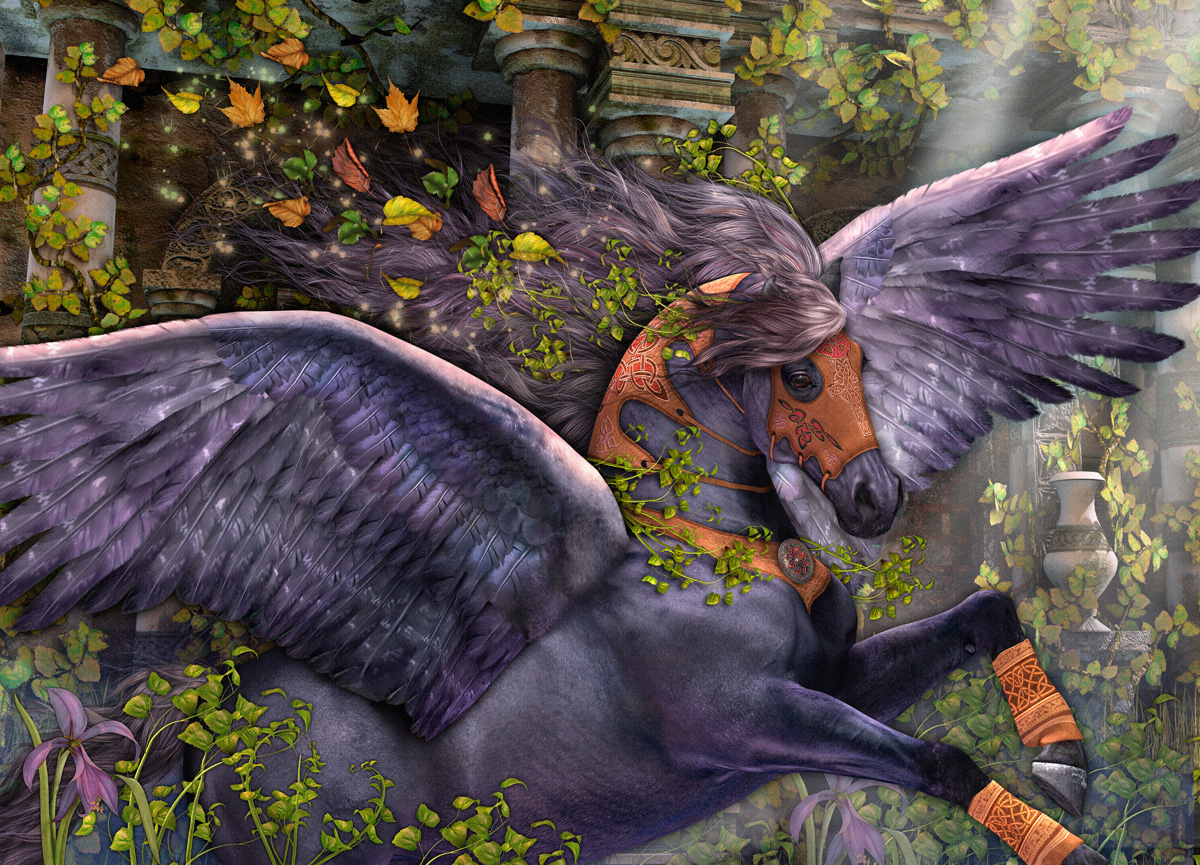 Gwarchodwyr

​
HW3DLB
- How did you discover the world of 3D? What do you like most about it?
CWRW
- Back in the very old days of getting software catalogs in the mail, I saw the Bryce program and was fascinated by it but couldn't justify the high price tag to use it for my design/illustration business, which was my then main day job.
I got Poser 2 many years ago in the interest of using it as a digital "artist's mannequin" as I also do a lot of illustration professionally and people are not my strong point drawing-wise. When I lived in New York it was easy to hire a live model which is not so easy in the boonies of Colorado where I live now!
Shortly after coming back from a horseback riding adventure in Africa in 2004, I became curious about Bryce again. DAZ had just purchased Bryce from Corel and was offering it for a really low price. I said heck yes! I spent that summer messing around with Bryce 5 and then discovered the DAZ Millennium Horse, which was the first thing I bought after Bryce. About that time I upgraded from Poser 2 to Poser 5. So it began.
What I enjoy so much about digital and 3D art are the endless possibilities. There is a huge advantage of all digital art, in that one can play and experiment with no fear of "messing up". I did a lot of watercolor when I was younger, and oh my, how many pieces got thrown out and started over and over again!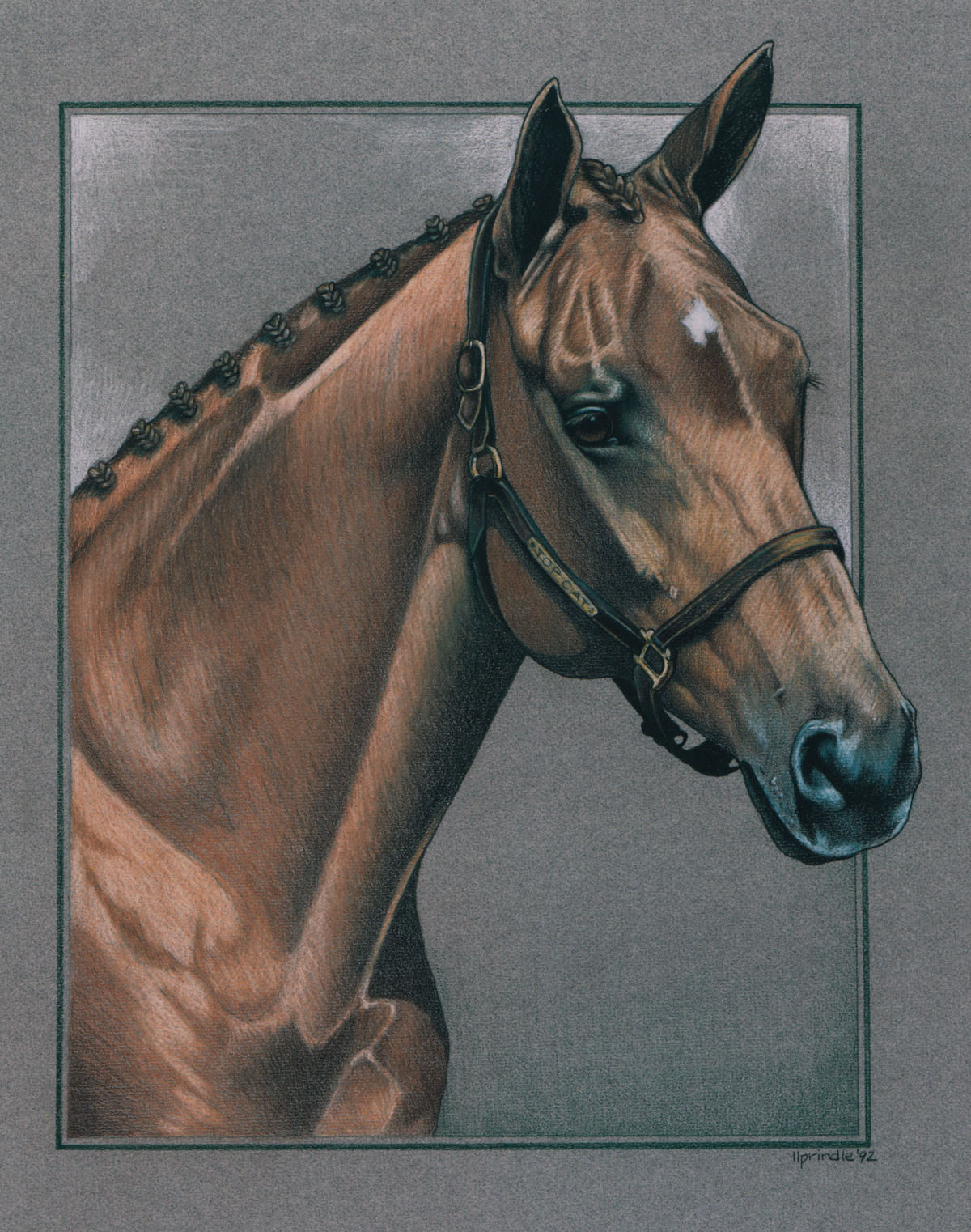 Top Cat Portrait: on Canson in colored pencil 1992
​
HW3DLB
- You obviously have a passion for horses which comes across in your beautiful, soul-stirring artwork. Are horses a lifelong passion of yours? How did you come to know so much about horse anatomy and breeds?
CWRW
- Another big LOL! I actually didn't like horses very much when I was growing up in Vermont. The big cats and the birds of prey were my fascination and inspiration. When I was about six, I tried riding and was almost killed for my trouble when the horse reared and threw me. All I remember were hooves flying in my face. After that, I thought horses were very pretty, but nuts, and I kept my distance.
My passion for horses didn't really begin until I moved to New York City to attend Parsons School of Design in 1980. There I met my significant other, Bill, and he and a crazy Irish friend, (also Bill!) dared me to go riding in Central Park with them. I took their dare and "the rest is history" as they say. For the next 4 years, the three of us rode over a hundred different horses, from barely broke to well-schooled, all over the parks in New York City.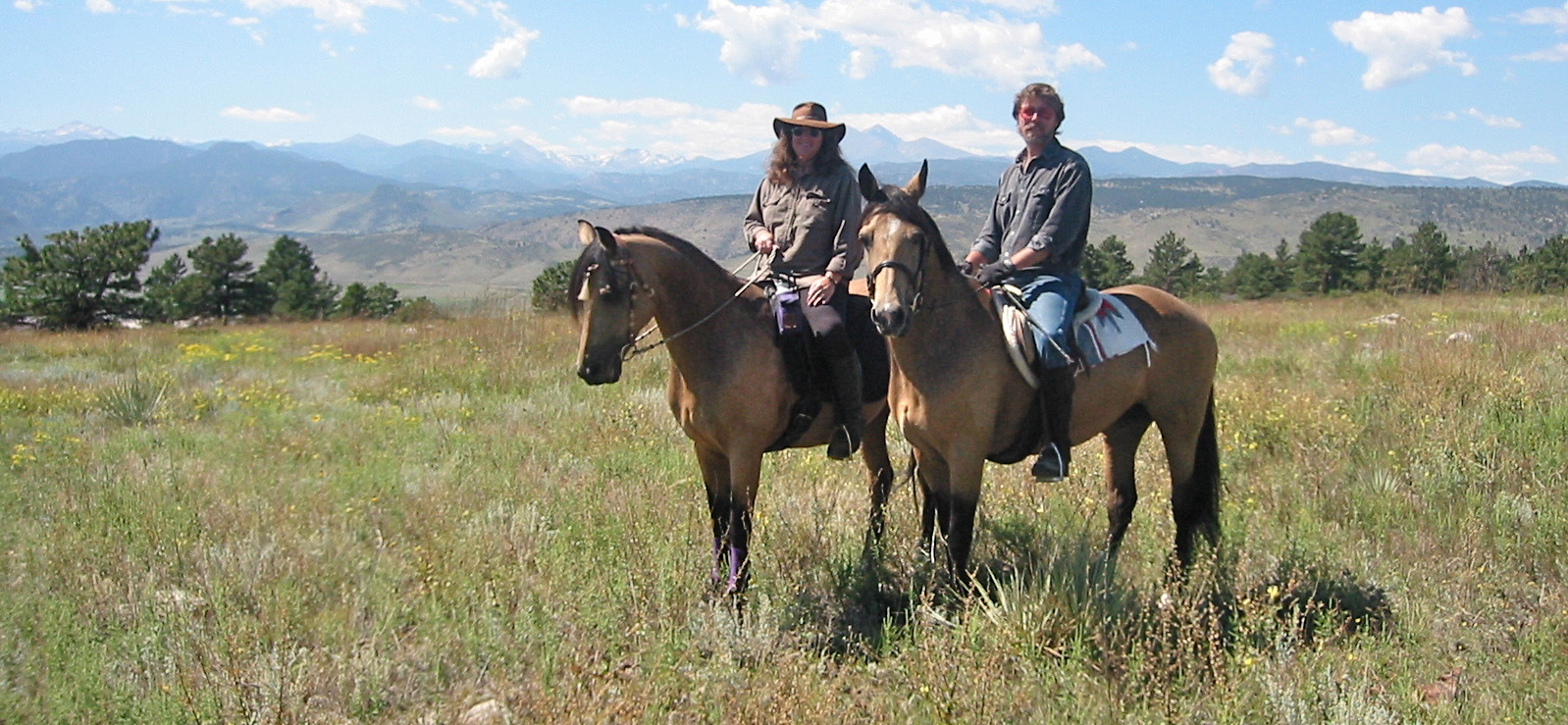 Laurie on Juanita and Bill on Mouse
​
Bill and I moved to Colorado in 1987 and I bought my first horse, a 6 year old Morgan mare. We both got into eventing, dressage, and riding the beautiful countryside of Colorado with our horses, and soon my design business here catered heavily to to the horse industry.
I became very close friends with our equine veterinarian, and she asked me to illustrate several of her equine medical books. Of course in the process I learned a lot about equine anatomy. My other "teacher" is George Stubbs, the greatest equestrian artist of all time. I have all of his equine anatomy books. We've had our little farm 20 years ago now and have had our Morgan horses at home here ever since. One definitely learns even more about them, caring for them every day, watching them play in our pastures and interact with each other and ourselves.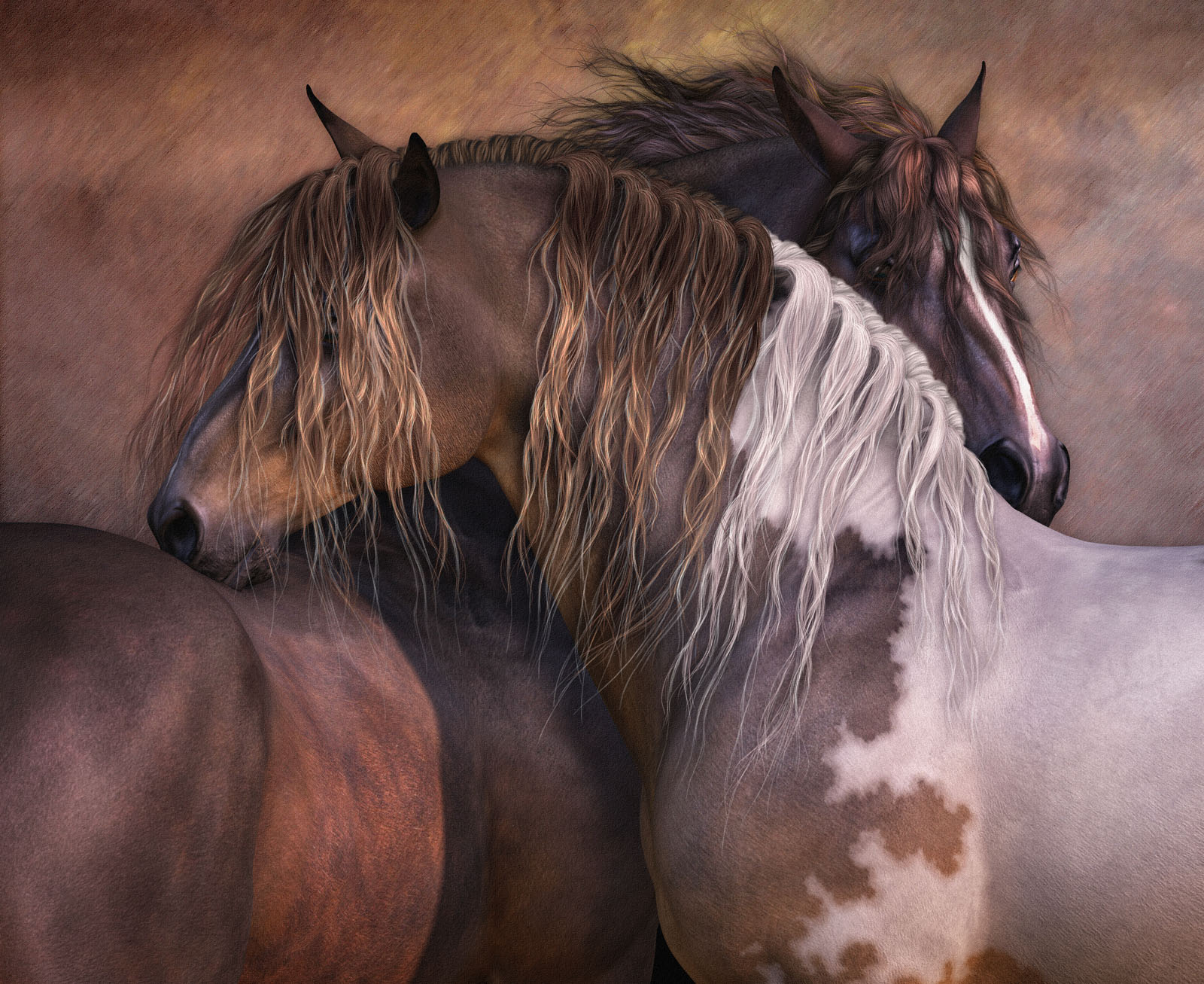 Los Hermanos
​
HW3DLB
- What are some things that you do away from the computer? What other hobbies and interests do you have?
CWRW
- Back before I had horses and a farm, I had a lot of hobbies. I was big on biking, hiking, skiing and swimming, and going to museums and so on ... but, well, definitely horses rule over all in our lives here now!
Our current passion is the study of French Classical riding and the Spanish riding disciplines of Doma Vaquera and Working Equitation. We have always done our own training and are fascinated by learning and teaching our horses new things. We have been very fortunate to get to work with the incredibly gifted Manuel Trigo the last few years and I watch YouTube videos of Nuno Oliviera incessantly.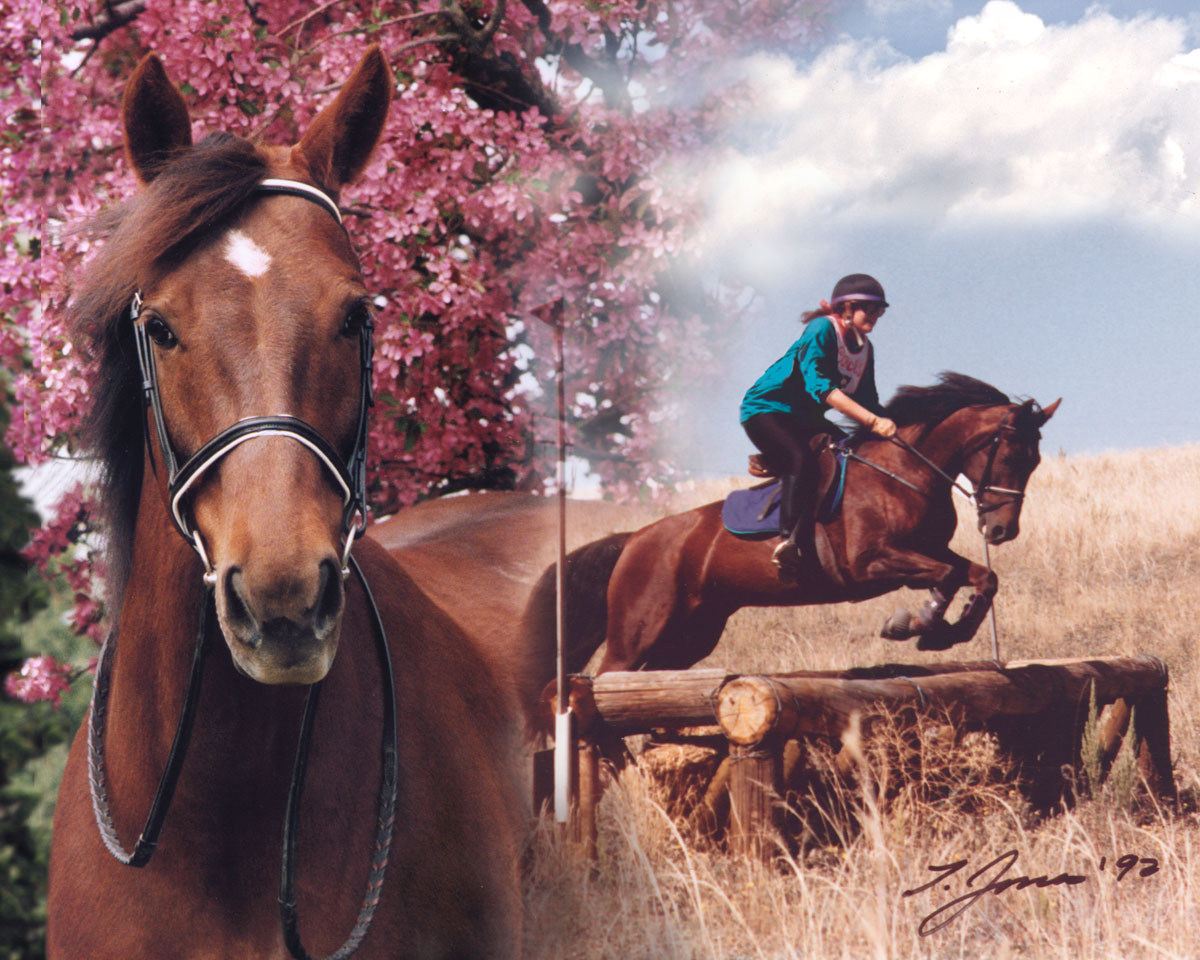 Laurie and Morgan mare Munzel's KY Grace on the cross country course at Spring Gulch Horse Trials, 1992. Photo by Tricia Jones.
​
Travel is our other passion! Not that we really get to do that much these days, though. I had some grand adventures back when I was art-directing/designing a grass roots magazine called "Simply Morgan". I was invited by breeders from all over the world to ride their beautiful Morgans in lots of beautiful and exotic places.
We visited Australia back in 2009. The Morgan folk from all over Oz welcomed us with open arms, and showed us one heck of a good time, Aussie style! Scuba diving is one of my other addictions that I don't get to indulge very often so getting to dive the Great Barrier Reef then was a dream come true, as was seeing my first wild lions and leopards in Africa!
​
Other than art, the horses, and travel when we get a chance, Bill and I spend time working on our farm and we are both avid readers. We are both huge blues fans; Buddy Guy, Muddy Waters, Albert King, BB King, Stevie Ray Vaughan and so on. In what little free time we have, one can often find us kicked back in our garden reading our Kindles, and having a beer and some good Vermont Cheddar.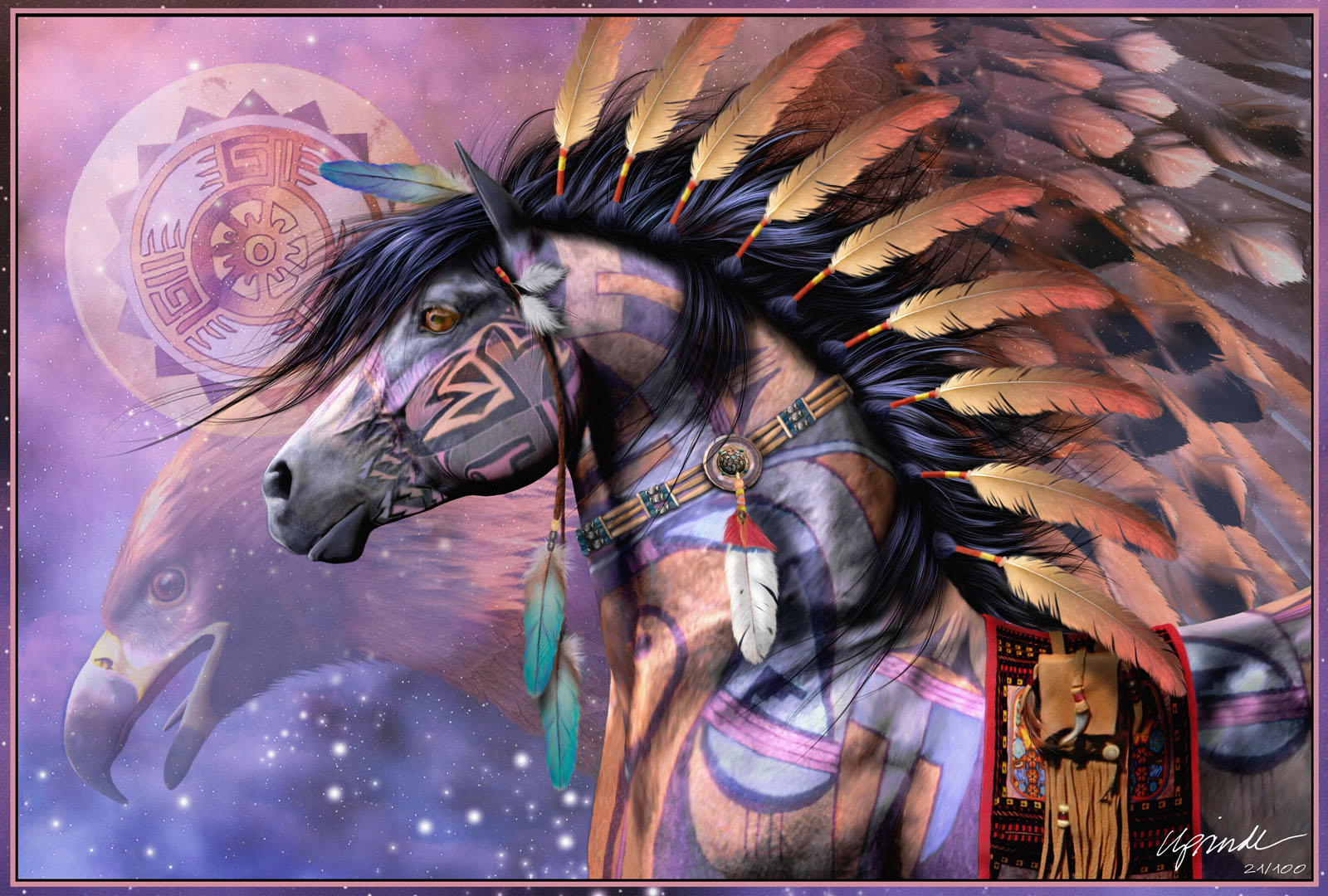 HW3DLB
- What is something interesting, fun or funny that no one really knows about you that people might be surprised to find out?
CWRW
- Other than I used to hate horses? Hmm...I do have a terrible secret vice. I am a died-in-the-wool fan of the reality TV show Survivor. Embarrassing really! If I was even 10 years younger, I would do it in a heartbeat, though! Probably my big mouth would get me voted out first.
HW3DLB
- What are your dreams? Where do you see yourself in 1 year, 5 years, 10 years?
CWRW
- I hope to keep learning classical riding and train my Morgans in piaffer and passage, etc. I very much consider riding and training a horse an art form.
One of the greatest joys of working with and training a horse is watching its physical and mental development. The horse's body becomes a work of art unto itself as it develops and becomes more beautiful, graceful and supple with correct training. A good example is my young Morgan, Flash. He came to me a very powerful but very uncoordinated and gawky youth with no muscling and a very short attention span. He has come a long way in the last 2 years and is a much more handsome and agile horse now.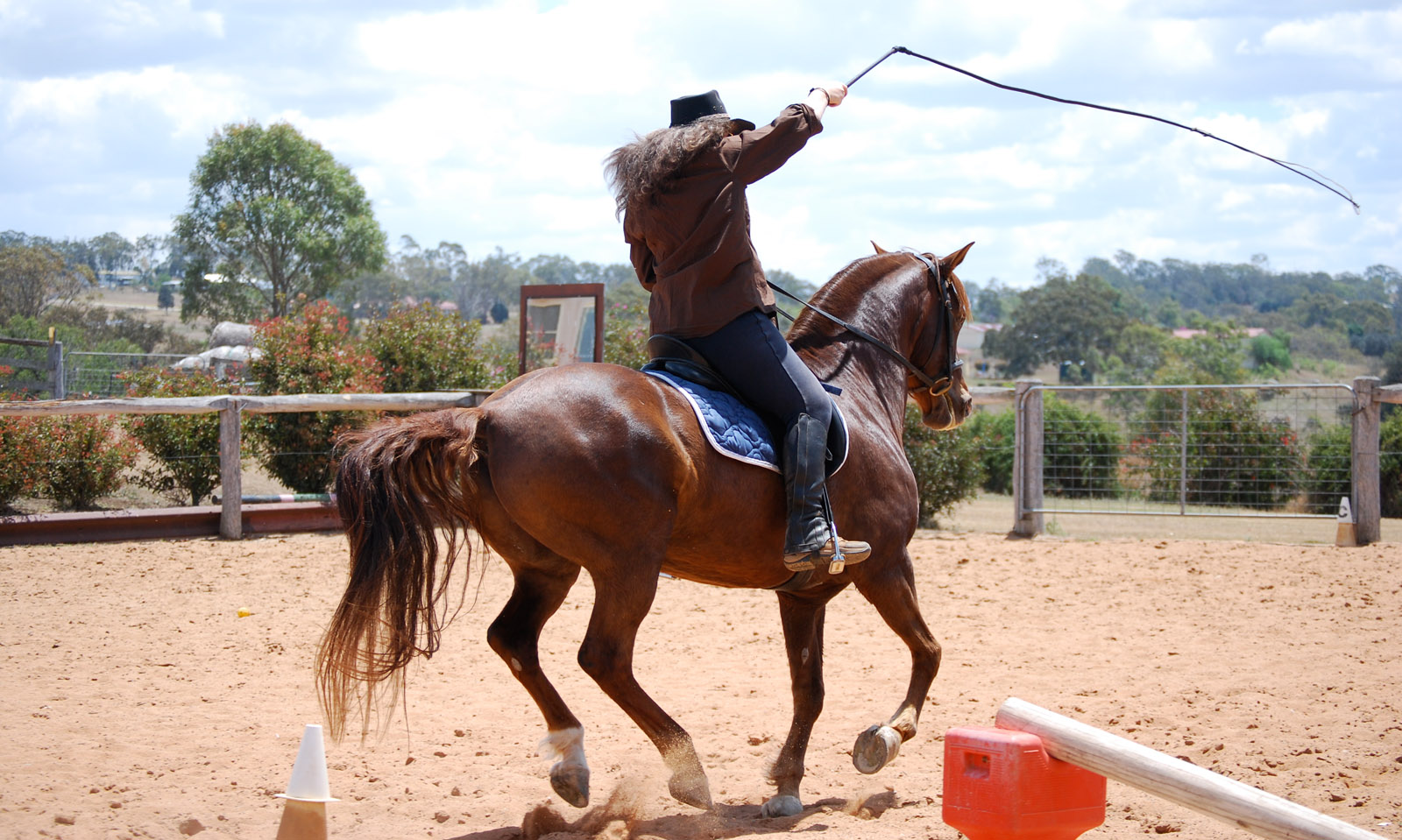 2009 - Laurie teaching the wonderful Morgan gelding Mt Tawonga Oscar about whipcracking. Oscar is owned by Ozzie friends, Kathy and Greg Lyons of Wilga Park Morgans, Queensland, AUS who also own the Morgan stallion, RanchBoss Cortez, brother to our late buckskin Morgan sisters, Juanita and Mouse.
​
I plan on continuing with my pursuit of my art always, until I drop. It's just so in my blood I couldn't stop if I tried. I am working on expanding my art licensing. I license with the Bradford Exchange and have
several current products
with them, as well as some other companies. I want to continue to grow the offerings on my
Zazzle store
as well as explore new ways of doing my art.
I plan on continuing to make products for the 3D market. I make them for my own art first and then sell them. Ken Gilliland and I are currently working on his Pegasus Wings and I have several texture sets in the works for the HiveWire Horse. I am also working with HiveWire and other 3D artists on upcoming horse products.
I also want to travel more! I'd love to revisit our friends in Australia and I very much want to do another trip to Africa. I'd like to fit in a dive trip somewhere in the Caribbean or pop over and see my Hawaiian horse buddy and do some snorkeling and riding there. On my bucket list is a pony trek through northern Wales, riding in New Zealand, and riding the famous ruins in Petra - where I can pretend I am Indiana Jones!
Basically down the road, I think things will be pretty much as life is now, but maybe with a little more free time to enjoy it all!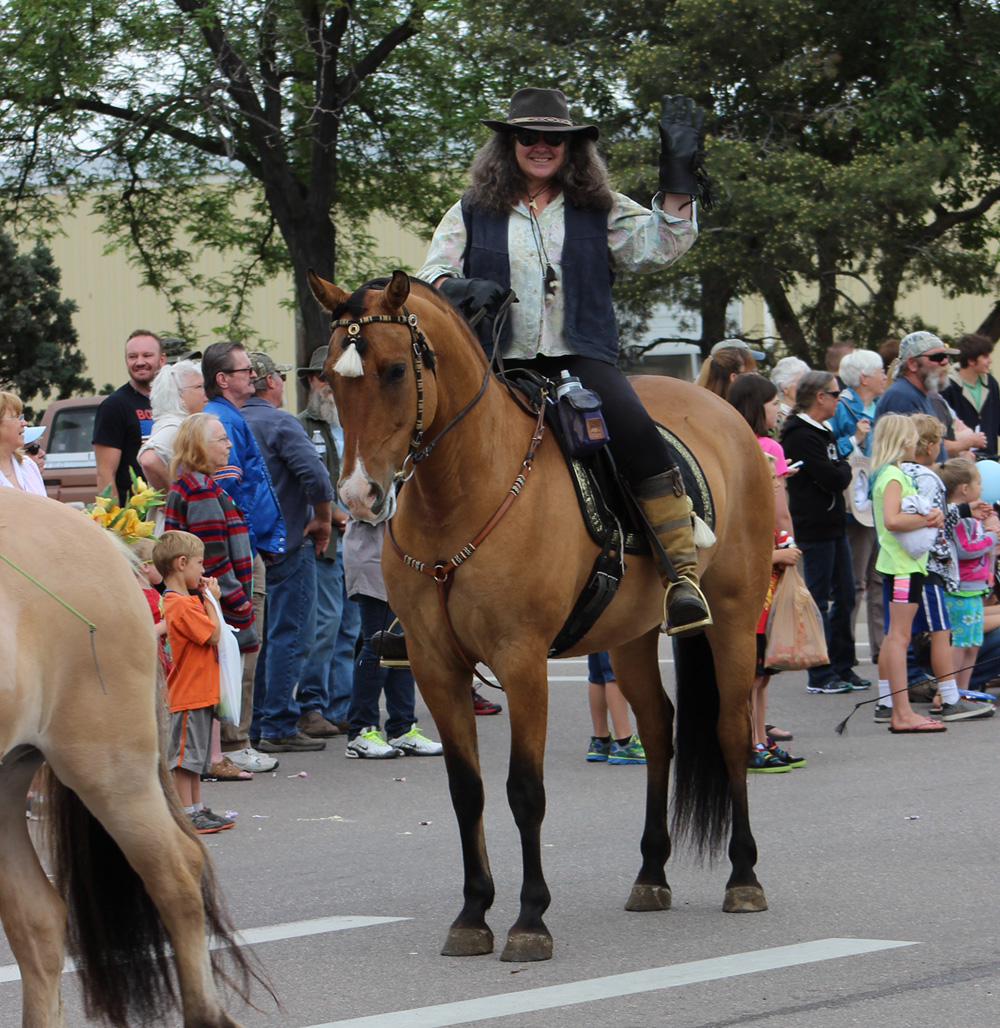 Laurie and her young Morgan gelding Ragtime Flashpoint (aka Flash) at Flash's first parade in their hometown Berthoud Days Parade June 2014. Photo by Bill Cripe.
​
HW3DLB
- What would be your best advice to someone who is just starting out in 3D and/or someone who wants to improve their work in 3D?
CWRW
- I would say when starting out to mainly have fun with it! I know how overwhelmed I felt at first when learning the programs and seeing such wonderful art and mine looked so bad, but I WAS having fun learning it.
The next thing I would suggest is reading any and all free online tutorials about lighting and play with it a lot. Good lighting is a large part of what makes GREAT digital/3D art! I've also studied good lighting products and learned a lot by doing that.
Also, one should not fear the dreaded "postwork". Some people are 3D "purists" and think postwork is for fixing mistakes made in renders. Personally, I tend to want to have a more "painterly" feel to my own artwork and do a LOT of postwork regardless of how good I think my render might be. I'm a big fan of Photoshop brushes and experiment a lot with layering and effects that are very hard to emulate in a render.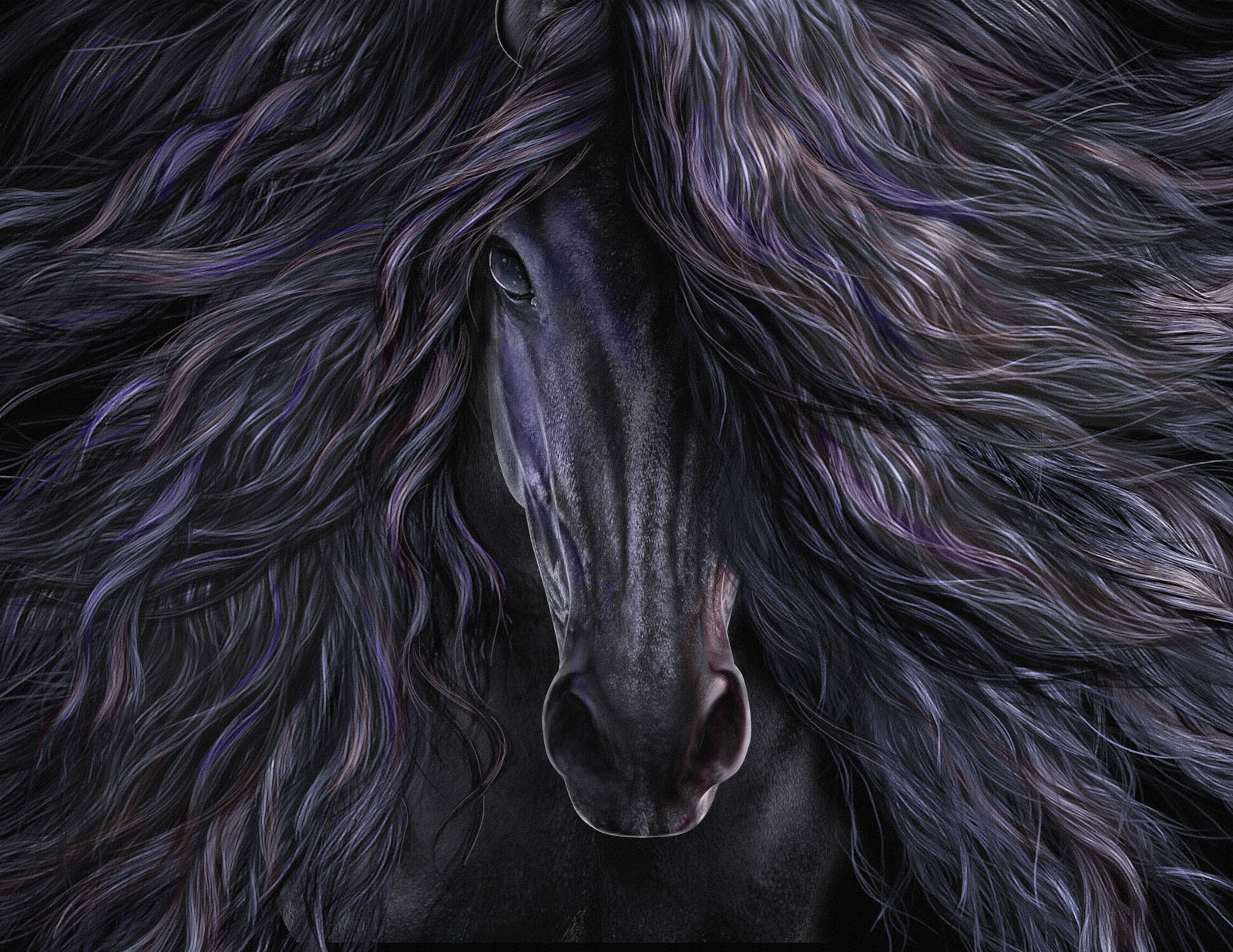 Black Magic
​
Don't be afraid to be critical of your own art. REALLY look at it and see what you like and what you wish was better. There are so many good free tutorials online that can help with technical concepts and techniques.
If you plan to sell your artwork commercially, it is vital you make it large enough. I work at a minimum of 16" x 20" at 300 dpi. Yes, they are big files and long render times, but it is crucial if you are serious about selling your art.
Sometimes when working large, it is easier to do your work in "pieces" and then composite them. It can give one a lot of leeway to experiment and change how pieces interact with each other which can not only lead to a more "artistic" look but also to some really spectacular results!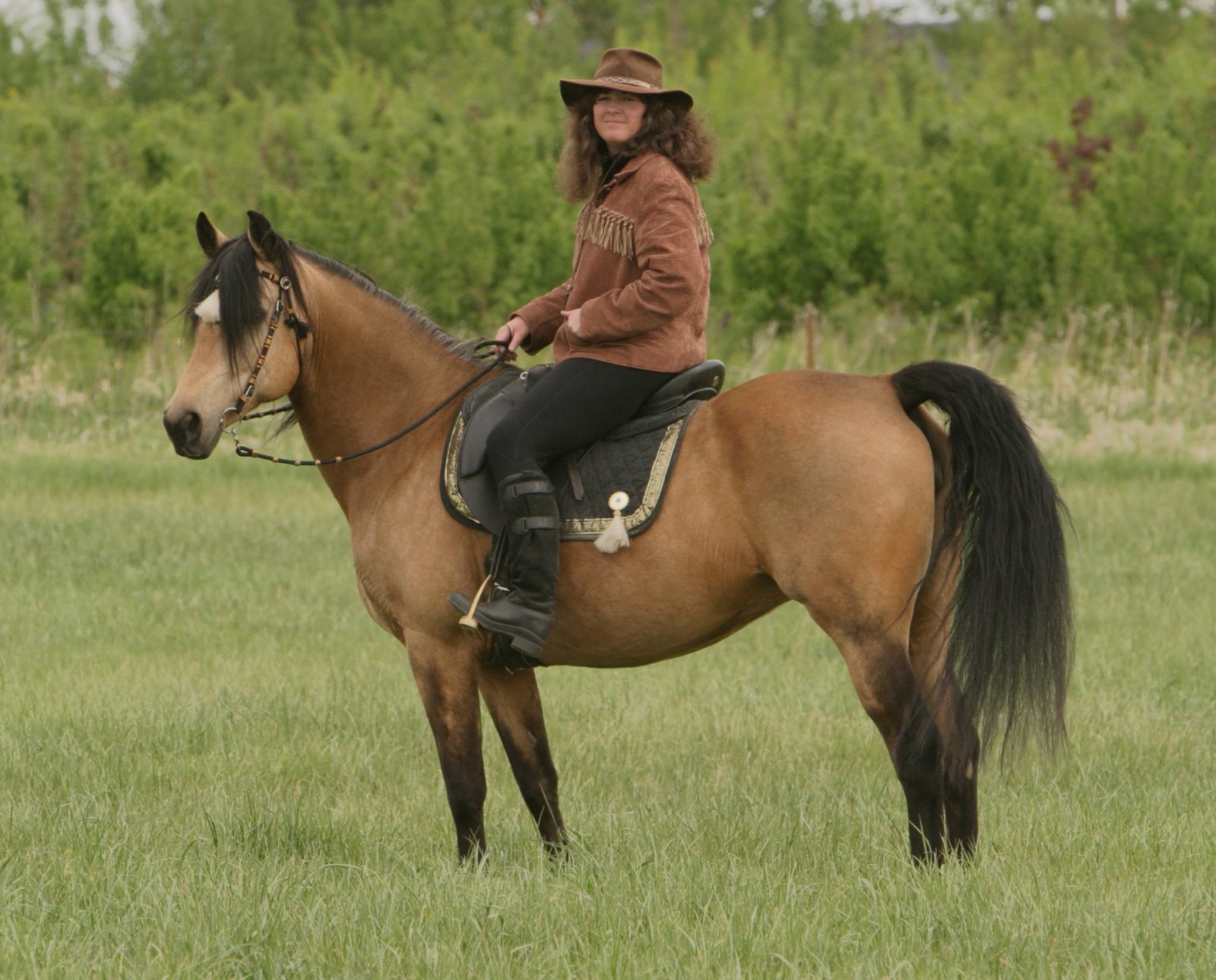 Laurie and Juanita
​
If you want to create 3D products for sale, my best advice is to make it for yourself first. You should be 100% satisfied with it yourself - so much so that you giggle with happiness at the results - before thinking about selling it. Making a product for the sake of just making a product creates products that don't sell well. If you aren't passionate about it, how will you make others passionate about it?
Laurie Prindle's 3D content is available here at HiveWire 3D. You can learn even more about Laurie and her beautiful artwork at her website.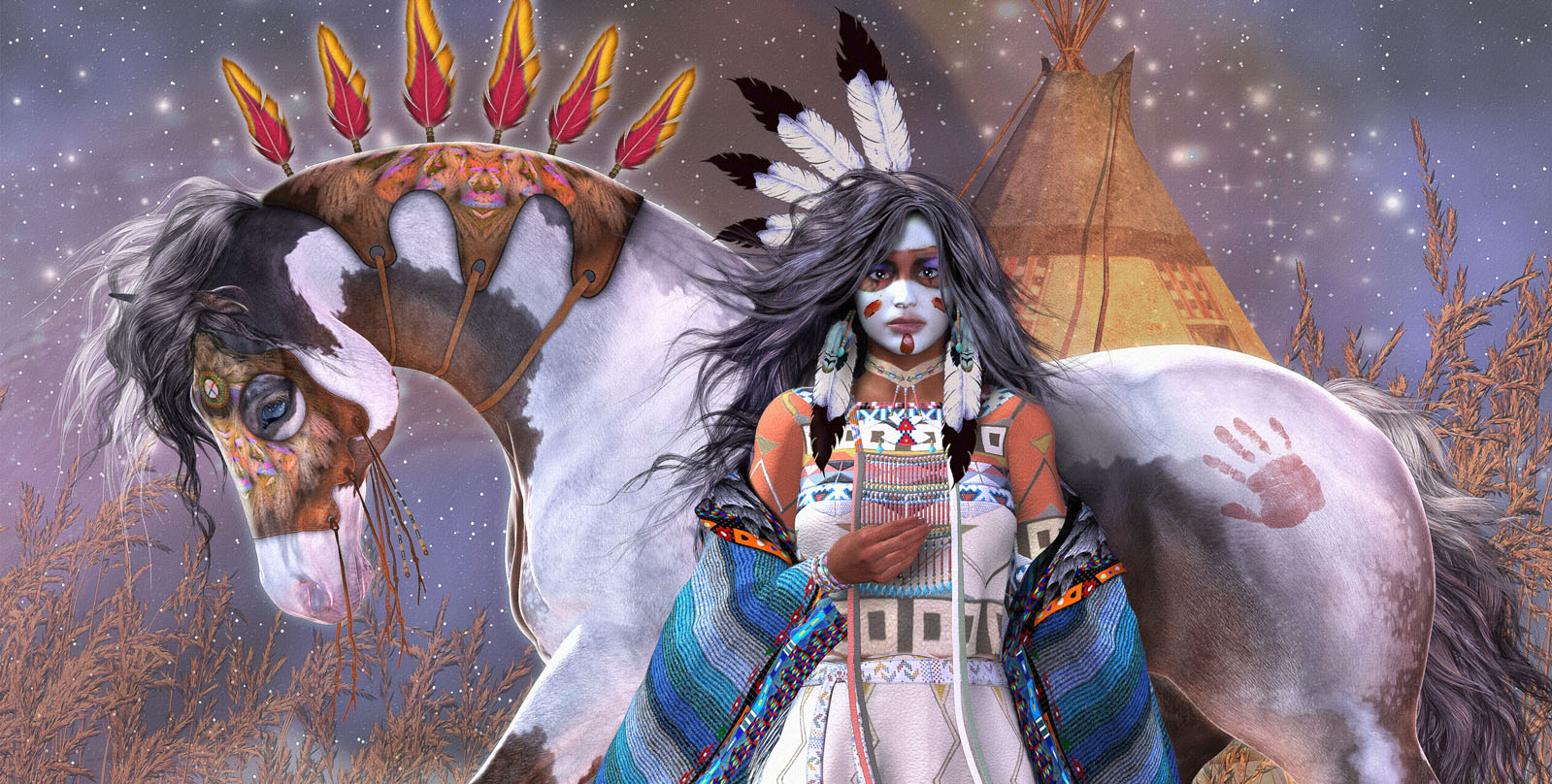 ​
NOTE: This interview was
originally posted here
.
​