HW3D Vice President & Queen Bee
Staff member
Co-Founder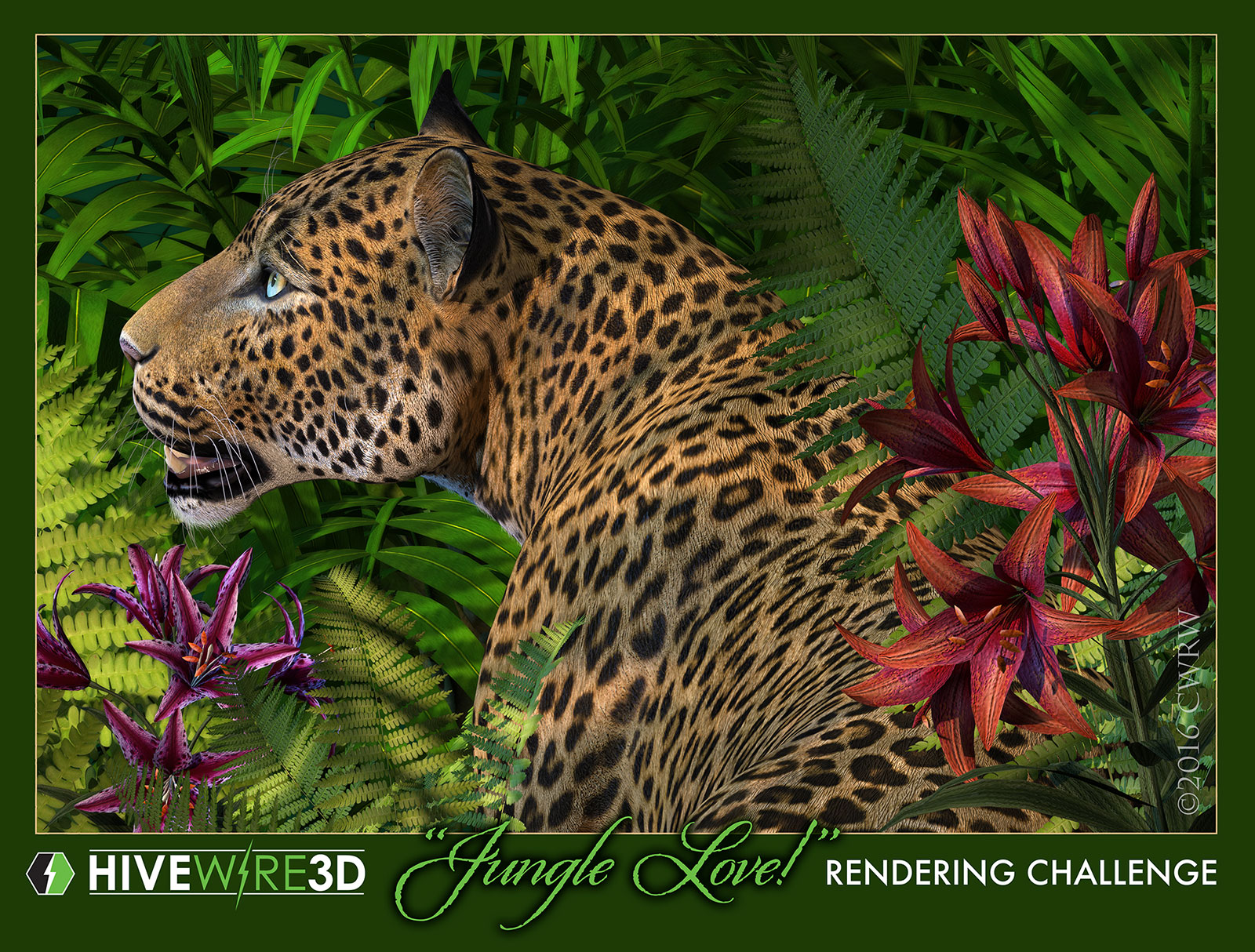 (Leopard's Gaze by CWRW, rendered in Poser)
​
The HiveWire 3D "Jungle Love!" Rendering Challenge
​
Challenge begins

August 12th

and ends

September 30th, 2016


Winning entries posted

October 10th, 2016
Total prize package over $2,436.87 in value!
​
____________________________________________________________________
​
HiveWire 3D expresses gratitude to the companies and individuals who are showing support by co-sponsoring this contest with their willingness to donate prizes. We appreciate all of you very much. Many thanks to:
____________________________________________________________________​
Prizes - Total prize package over $2,436.87 in value!
1st Place Prize
(currently a $1,298.94 prize package value)
2nd Place Prize
(currently a $648.94 prize package value)
3rd Place Prize
(currently a $388.99 prize package value)
4 Honorable Mentions
Limit of one (1) prize package per entrant
____________________________________________________________________​
Contest Entry Rules, Specifications & Guidelines
You Must Include

The HiveWire 3D Big Cat MUST be used. The Big Cat does not have to be a prominent feature but must be included in the image.

You MUST use (1) additional product from the "Jungle Love!" category. To assist you, these jungle-themed items will remain on sale until August 29th, 2016.
In the submission process you must list the products from the "Jungle Love!" category that were used to create your image.
The finished products must be solely the creation by the entrant.
Images that do not follow the contest rules will be removed.



Image Sizes and Content

Limit of 4 image submissions per entrant.

No nudity (if incorporating human figures), overly sexually suggestive, or overly violent images will be considered.

Images need to be print quality. Image size should be no smaller than 800 x 600 pixels and no larger than 3000 x 3000 pixels. Format can be in .jpeg, .png, .gif or .tif

Entries can be either landscape or portrait aspect ratio.



Guidelines and Frequently Asked Questions

Postwork is allowed.
Any 2D or 3D software program(s) and tools can be used.
You MAY enter an image that has been posted elsewhere (such as another forum, contest, etc).
You may include your signature on your submission images.
PLEASE include a description to tell what type of software you used. You may also include anything else about the image you wish to share.
____________________________________________________________________​
Judges:
Smith Micro

Filter Forge

Tanya Kochubey (Chief Designer)
CWRW

HiveWire 3D

Chris Creek
Lisa Buckalew
We recommend not waiting until the end of the contest to upload your entry, to lessen any upload issues. Please give yourself ample time to correct your entry, if need be. Corrections will NOT be accepted if they are not time stamped by Friday, September 30th, 2015 23:59:59pm MDT.
All prize winners must supply HiveWire 3D with their real name, email address, and mailing address for prize distribution and registration.
By entering this contest, you agree that any content you submit may be used by HiveWire 3D for promotional purposes in online ads, print publications, CD/DVD, digital media or in any other medium. By submitting your entry to this contest you are granting HiveWire 3D the right to retain your entry in our archive and to display the entry to promote HiveWire 3D or future contests. The Artist will remain the intellectual property holder of submitted images.
Winners that receive cash prizes are required to pay any required taxes according to the laws of their country of residence, as well as any applicable withholdings based on the laws and regulations of the United States of America and State of Utah.